EALC: Second Annual Calligraphy Contest
Thu. Feb. 11, 2016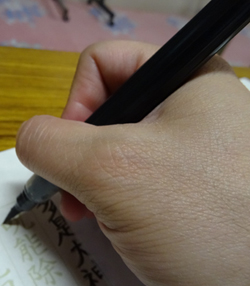 Dr. Jeffrey Newmark of the East Asian Languages and Cultures Program is pleased to announce the winners of this year's Japanese Calligraphy Contest, as follows:
First Place:  Simon Gange
Second Place:  Fey Hornby
Third Place:  Matthew McMahon
Students from Introductory Japanese once again took part in the University of Winnipeg Japanese Calligraphy Contest.  They were evaluated on their penmanship, use of space, and consistency in characters. 




The entries reproduced the opening line of Kamo no Chōmei's Hōjōki (An Account of a Ten-Foot-Square Hut), a famous piece of classical literature from 1212:
行くかわの流れはたえずして
しかも もとの水にあらず
(The current of the flowing river does not cease,
and yet the water is not the same water as before)
Congratulations to the winners and all students who submitted entries for the competition. It truly testifies to their dedication in learning the Japanese language.