French Studies alumnus awarded major bursary
Wed. Jul. 29, 2015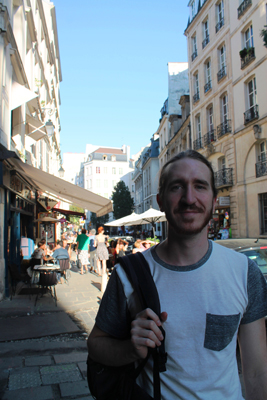 Ryan Winning graduated with a B.A. Honours in French Studies from the University of Winnipeg in June 2014 and has now completed the first year of his Master's degree in linguistics at the Sorbonne Nouvelle University in Paris. He was recently notified that he has won a major bursary from the Université Sorbonne-Paris Cité, in a competition that was open to promising foreign graduate students attending a French university.
Ryan is specializing in sociolinguistics and he is looking at the social significance of English use among francophones in the French music scene. English words and pronunciations, he says, are often borrowed by francophone musicians, and the English language in general is very often used as the language of their lyrics. He explains that "English is seen as being inextricably linked to certain genres of music, which can often have ideological consequences, such as feeling guilty for not exploiting one's mother tongue for creative purposes (French in this case)." This past year, Ryan did a mini-thesis, laying the groundwork for his Master's thesis, while living in the 11th arrondissement of Paris and working part time at a café. The scholarship, he says, will help to reduce the time he needs to spend working while he writes his thesis.
As for his undergraduate education, Ryan feels his time spent at the University of Winnipeg "aided me greatly with my written and oral expression in French, facilitating my entry into a French University and allowing me to conduct research here." Ryan credits Dr. Liliane Rodriguez, Professor of French Studies, in particular, given their "shared research interests" as being "a great help in preparing me for my graduate work."
According to Dr. Liliane Rodriguez, Ryan was a "keen student with a passion for French." Dr. Rodriguez recalls that "while acquiring advanced competence as a French Honours student, he steadily developed a strong interest for linguistics and translation." On behalf of his professors at the University of Winnipeg, Dr. Rodriguez wishes to congratulate Ryan on this recognition from the University of Paris.