Summer Field School in Ethnobotany to run again in 2015
Mon. Mar. 23, 2015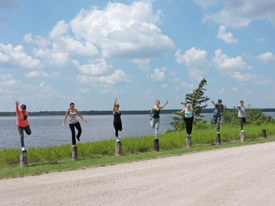 After a highly successful first run last summer, the Department of Indigenous Studies is pleased to announce that the summer field school in Ethnobotany will be offered again in 2015. The course design for the field school involves seven days in the classroom and four days of experiential learning from herbalists and indigenous elders in the Keeseekoowenin First Nations near Riding Mountain National Park.
The field school offers an exciting opportunity to study the multiple dimensions (such as medicinal, ceremonial, aesthetic, and subsistence) in the use of plants by Indigenous communities in Manitoba along with the botanical identification and knowledge of these plants. The major interdisciplinary sub-themes that will be covered through this course include Indigenous medicinal plant knowledge systems, applied Ethnobotany, Ethnoecological methods and community-based management of natural resources.
When: August 4 to 19, 2015
Where: University of Winnipeg and Keeseekoowenin First Nations
Costs: Regular tuition and an additional $150.00 for the field expenses
Pre-requisite: IS-1015, IS-3012/ANTH-3170 or permission of Instructor  - and love for plants!
Those interested in registering for this course should contact:
Department Assistant: Jenna Neepin at 204-786-9305 (j.neepin@uwinnipeg.ca) OR Prof. Shailesh Shukla at 204-786-9761 (s.shukla@uwinnipeg.ca)
Limited spots available!! Register today!