Arts welcomes Riley Fellowship Scholar
Tue. Jan. 27, 2015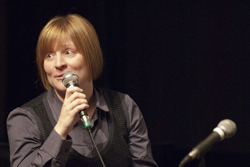 Riley Fellowship Scholar, Stacey Zembrzycki of Concordia University, will be giving a public talk at the Oral History Centre the evening of Wednesday, February 25th, preceded by a seminar on the afternoon of February 24th.
Public Lecture:
Baba as Oral Historian: Lessons in Collaborative Practice
Wednesday, February 25
7:00 PM
Room 2B23
Seminar:
Telling Interview Stories: Turning Experiences into Narratives
Tuesday, February 24
2:00-3:30 PM
Room 2B23
Stacey Zembrzycki is an Affiliate Assistant Professor in the Department of History at Concordia University. An award-winning modern Canadian oral and public historian of ethnic, immigrant, and refugee experience, she is the author of According to Baba: A Collaborative Oral History of Sudbury's Ukrainian Community (UBC Press, 2014), and is co-editor of Oral History Off the Record: Toward Ethnography of Practice (Palgrave Macmillan, 2013).
Funding for this lecture series generously provided through the Sanford Riley Centre for Canadian History.
For more information contact:
Kimberley Moore at ki.moore@uwinnipeg.ca