Axworthy Health and RecPlex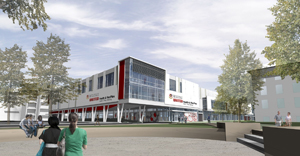 Background - UNITED Health & RecPlex
Learn. Play. Belong.
The University of Winnipeg is building a multi-purpose recreation complex connected by sky bridge to the existing Duckworth Centre which is undergoing renovations to create a block-long physical activity and health complex, the first of its kind in the centre of the city.
KEY BUILDING FEATURES
Total scope of project is 189,000 square feet, on Spence Street between Ellice and Portage
Complex construction and renovation is $40 million
Duckworth Centre renovations, including creation of the Health, Wellness and Healing Centre, to be completed by fall 2014
RecPlex construction begins fall 2012 for completion by fall 2014
New underground parkade will accommodate approximately 200 vehicles
The University of Winnipeg Community Renewal Corporation is spearheading development of the project; the architect is Number TEN Architectural Group; the project manager is Resolve Group Inc.; construction is by PCL Construction Canada Inc; tree salvaging and recycling is by Wood Anchor
Energy efficient with targeted Silver LEED construction
New RecPlex
new three story structure with approximately 179,000 square feet
large multi-use artificial turf field that can be converted to three cross court fields
will accommodate soccer, football, ultimate, baseball and other field sports
regulation four-lane 60 meter rubberized sprint track
retractable batting cages and a practice gym
two multi-events rooms, including a soundproofed room for drumming and pow wow groups, with ventilation to accommodate smudging
studio for activities such as yoga and dance
multi-media lounge space for students and visitors
food and beverage kiosks
Renovated Duckworth Centre & new Health, Wellness and Healing Centre
renovating 10,00 square feet of three story Duckworth Centre
houses the new Faculty of Kinesiology and its academic and athletic programs
clinic with primary health care for students, staff and local community members and athletic therapy and massage therapy including sports medicine
traditional and alternative healing services
pharmacy including athletic therapy supplies
new Lifespan Physical Activity and Health Research Centre containing: (pending approval by the University's Senate):
The Head's Up Concussion Institute
Institute for Inner-City Youth Sport Development
Health and Education Research Institute
Nutrition Counselling and Obesity Treatment Program
Diabetes Awareness and Education
Fitness and Motor Performance Assessment and Counselling ….over...
KEY BUILDING USES AND COMMUNITY BENEFITS
Creates recreation and wellness destination for the inner-city with collaborative Community Charter guaranteeing access for community youth
Augments UWinnipeg's developing multidisciplinary healthy campus initiative
Enhances student sports programs, including upgraded facilities for Wesmen athletes and increased intramural sport programming for UWinnipeg students and staff
Increases UWinnipeg's Inner City Wesmen sports program allowing hundreds of area youth to play basketball, volleyball, soccer, baseball, wrestling and other sports at no cost (program supported by private donations to UWinnipeg's new Sport For All Fund)
Creates new research, teaching and student practicum and employment opportunities for all faculties and specifically in UWinnipeg's new Faculty of Kinesiology
Offers new home for UWinnipeg's popular Eco-Kids Summer Camp which attracts 1,200 inner-city children annually (free camp - supported by private donations)
Offers Collegiate and Model School students new facilities and enhanced recreation programming (UWinnipeg's high school on campus)
Adds much needed, centrally located, state-of-the-art soccer facility available for rent to numerous Winnipeg sports groups

KEY MILESTONES
In 2009, UWinnipeg launched the President's Task Force on Athletics and Academics with a goal of enhancing athletics and academics on campus and for the surrounding community. This resulted in creation of the new position of Director of Athletic Program Development & Community Liaison and exploration of a new recreation facility.
In August 2010, The City of Winnipeg pledged $2 million toward the project
In June 2011, The Province of Manitoba committed $15 million to the project
In June 2011, the University, with a broad coalition of youth-serving agencies, held an open Town Hall to help develop Community Charter Principles, ratified by UWinnipeg's Board of Regents on June 18, 2012. The Community Charter ensures access to community activities in the UNITED Health & RecPlex
In fall 2011, UWinnipeg's Board of Regents ratified a student referendum approving a student athletic fee of $30 per term to support construction of the new facility
In February 2012, UWinnipeg's Wesmen Men's and Women's soccer teams accepted into the Canadian Interuniversity Sport - Canada West Conference, effective spring 2012
By June 2012, UWinnipeg is supporting 11 youth community sports teams under the Wesmen umbrella in partnership with community organizations and private donors including a new inner city summer soccer league, a first for children in central Winnipeg
On July 1, 2012, UWinnipeg's new Faculty of Kinesiology is officially launched, with Dr. David Fitzpatrick as the inaugural Dean
September 6, 2012, official sod-turning ceremony for the UNITED Health & RecPlex takes place on Spence Street
 
updated August 27, 2012