Jamie Wilson
Alumnus, Bridge-builder, Educator, Deputy Minister of Growth, Enterprise and Trade
---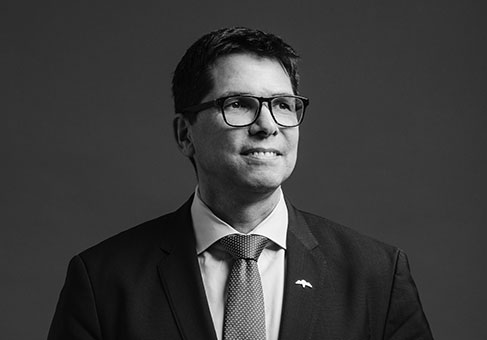 Building bridges between First Nations and business communities
Jamie is a visionary of Cree descent who is passionate about building bridges between First Nations and business communities, as a pathway to a strong and prosperous economic future for all. 
With a background as an educator, an elite military Ranger and as Manitoba's Treaty Commissioner, Jamie is uniquely positioned to lead the province's economic portfolio as the Deputy Minister of Growth, Enterprise and Trade. GET is primarily responsible for implementing the Government of Manitoba's ten point economic plan and ensuring results in economic development policy and program decisions.
Jamie's greatest leadership strengths are as a facilitator and relationship builder where his calm and thoughtful demeanor enables him to navigate complex discussions and often highly charged situations, to positive and successful outcomes. Jamie is passionate about bridging the gap between First Nations and business communities, to help create greater educational opportunities, joint ventures and partnerships.
On Ancestral lands, he is an award-winning environmentalist and survivalist who teaches the traditional ways of land navigation, and subsistence living.  He has also long advocated for the equality of women in ceremony and in leadership.
Jamie earned his B.A. at the University of Winnipeg and his M.Ed. Administration from the University of Manitoba. He also holds a U.S Multi-Subject Teaching Credential from California State University and possesses K-12 teaching experience in public school systems: on-reserve and U.S. charter schools.  Jamie also holds an ICD.D designation from Rotman School of Management.
In 2010, the Government of Canada appointed Jamie as Treaty Commissioner of the Treaty Relations Commission of Manitoba. In 2012, he was a recipient of the Queen's Diamond Jubilee medal for Community Service.
---
Next >
< Previous