Dr. Chris Wiebe
Alumnus, Chemist, Faculty Member
---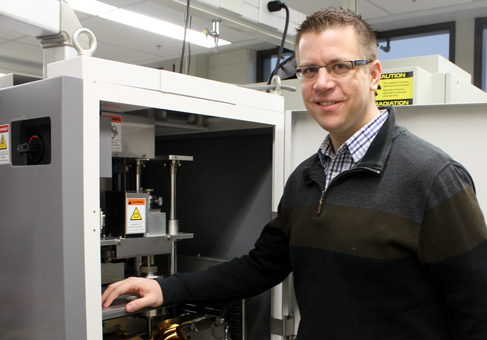 Exploring possibilities that could change our world
Dr. Chris Wiebe is a physical chemist and Canada Research Chair in Quantum Materials Discovery.
As a former University of Winnipeg graduate (96), Wiebe held faculty positions at Brock University and Florida State University before deciding to return to his alma mater in 2009 to make a difference.
Wiebe quickly established himself as one of Canada's leading chemists and built a world class research laboratory at UWinnipeg. His state-of-the-art lab in the Richardson College for the Environment and Science Complex contains Manitoba's only floating zone image furnace, which allows him to grow crystals at very high temperatures and watch them evolve in real time.
His research focuses on the new materials and technologies that define our world, from the electronics inside an iPad, to the superconducting magnets inside MRI machines.
Wiebe is interested in exploring possibilities: He says, for example, that the discovery of a superconductor that works at room temperature, would completely change our world, from cheaper MRI scans to high-efficiency transportation of electricity in hydro lines. 
Wiebe is the only Manitoba scientist appointed by the Canadian Institute for Advanced Research to its Quantum Materials Program. Other members come from prestigious universities around the world including Princeton, Harvard, Columbia, MIT, and Cambridge.
He has also served as president of the Canadian Institute for Neutron Scattering, which is trying to build a new neutron source in Canada. Wiebe has trained and mentored many students that have gone on to successful careers.
---
Next >
< Previous