Hanwakan Whitecloud
Alumnus, Mentor, Role Model
---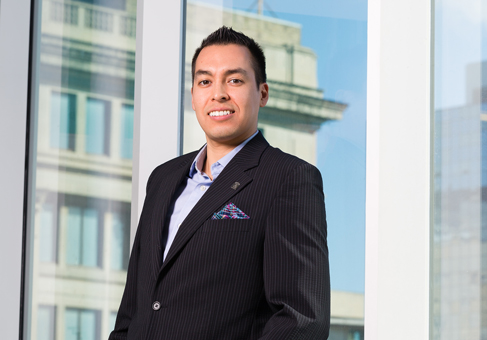 Mentoring Indigenous youth for business success
Hanwakan Whitecloud is a Dakota from Sioux Valley Dakota Nation in western Manitoba. A business graduate, skateboarder, and outdoor enthusiast, Whitecloud pursues projects with passion and dedication in both his professional and personal life.
His professional work involves mentoring Indigenous high school students to see themselves as future business success stories.
In the past three years, he's worked with more than 150 Indigenous youth through the In.Business program, teaching them the tools they need to excel as future business leaders and entrepreneurs.
In.Business is a national initiative of Cape Breton University that matches Indigenous students from across the country with local business leaders. Whitecloud manages the program for Manitoba, Saskatchewan and Nunavut out of The University of Winnipeg's Wii Chiiwaakanak Learning Centre.
His spare time is spent on social justice projects with his wife Tessa, and promoting skateboarding in Northern communities.
He is also an up-and-coming film director, producing pieces about urban Indigenous identity and resistance to colonization about skateboarding and art. 
Whitecloud incorporates traditional knowledge into his modern ways of being and is learning his Dakota language for future generations.
---
Next >
< Previous