Duff Roblin
Former Premier of Manitoba
---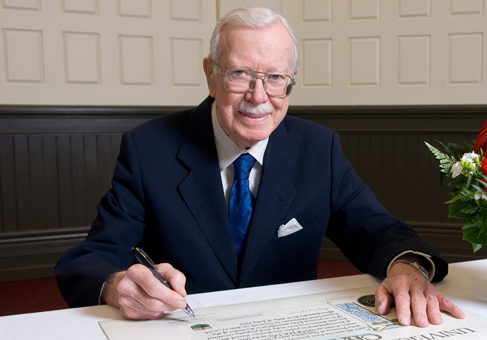 Creating a new vision for Manitoba
A visionary politician, the late Duff Roblin was an exemplary citizen and a generous patron of the community.
Born and raised in Winnipeg, his political motivation developed from being the grandson of former Manitoba Premier Sir Redmond Roblin.
After returning from the Second World War, where he served with the Royal Canadian Air Force, Roblin joined the Manitoba Progressive Conservative Party and won a seat in the Manitoba Legislature in 1949. He became leader of the Tories in 1954, and gained a reputation for political integrity and leadership.
Serving as premier from 1958 to 1967, he increased provinical spending on education and health facilities, provided funding for road construction and harnessed the Nelson River for hydro-electric power.
He was instrumental in the construction of the Red River Floodway, or "Duff's Ditch" as it was affectionately known, saving taxpayers millions in potential damages by diverting floodwaters every year. In 1967, he oversaw the granting of The University of Winnipeg charter; he restored the use of French in Manitoba schools; and he increased the accessibility of post-secondary studies for Manitobans.
In 2007, The University of Winnipeg and its Foundation honoured Roblin with the inaugural Duff Roblin Award and the establishment of the Duff Roblin Graduate Fellowships, which support students pursuing studies in Indigenous development and governance.
Roblin also received an Honorary Doctorate of Laws from UWinnipeg in 1968. He was made a Companion of the Order of Canada in 1978.
He died in Winnipeg in May 2010.
---
Next >
< Previous