Jamie Pfau
Alumna, Foster Parent
---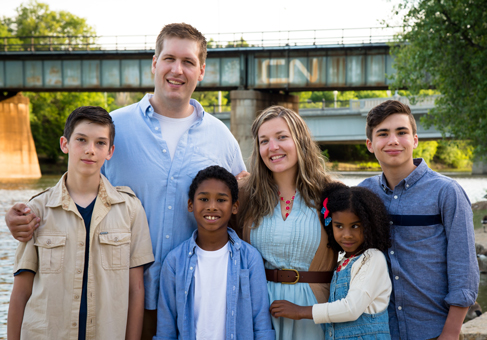 Helping at-risk youth heal through family
When Jamie Pfau's doctor told her she could never be a mother, she wanted to prove him wrong. Six years and four kids later, she has — even if she's never given birth to a child.
Pfau and her husband Kevin are proud foster parents who thoroughly enjoy raising all their children. After becoming a mother for the first time, Pfau knew she wanted more.
Being exposed to the vast needs of youth in her local community, she was inspired to go back to school. In 2016 she graduated from The University of Winnipeg with a BA (Hons) in Psychology, a degree that taught her about Fetal Alcohol Spectrum Disorder (FASD), attachment, child development, and the brain in general.
Pfau credits her undergrad experience at UWinnipeg with making her a better parent and inspiring her to continue her education. She is about to begin graduate school to obtain a Master of Social Work. Her husband has also enrolled at UWinnipeg with dreams of completing a degree in Indigenous Studies.
She and her husband are pursuing higher education in order to better understand the immense oppression, trauma, and addictions that have so negatively affected the young people they live bring into their home. Together, the couple hopes to one day be able to open a large foster home in Winnipeg.
"If we could, we'd fill it with all the children who need a warm bed to be tucked into, a meal to eat around a large, loving dining table, and countless siblings who will help them heal," Pfau said. "I look forward to helping my community by healing youth."
---
Next >
< Previous