Doug and Louise Leatherdale
Alumni, Donors, Philanthropists
---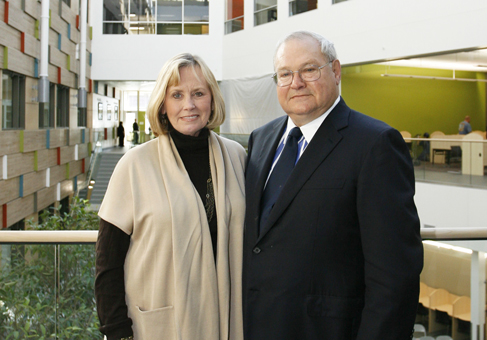 Giving the gift of knowledge
As The University of Winnipeg celebrates its 50th anniversary, Leatherdale Hall swings opens its doors as a new meeting space on campus for students and the community, made possible by the generous lead gift from Louise and the late Dr. Doug Leatherdale.
Connected to Convocation Hall, the addition enhances our ability to bring people together to share ideas and knowledge and includes the resurrection of Tony's Canteen, a beloved gathering space for many. In 1953, a teenaged Dr. Leatherdale moved from the family farm in Morden, Manitoba to attend United College (now UWinnipeg) and maintained a lifelong connection to his alma mater.  
Passionate about education and inspired by their own educational experiences the couple has generously contributed more than $4.5 million, to date, towards the renewal and construction of essential campus space, student supports, and a strengthened academic environment — making the Leatherdales UWinnipeg's most generous private donors.
The couple also support an endowed fund named in memory of Doug's father, Walter W. Leatherdale, as well as the Dr. Douglas W. Leatherdale Global Internships. These internships provide students an opportunity to enhance their degree programs with credits they obtain through international studies in Human Rights and Global Studies. These financial supports have helped more than 100 individual students achieve their full potential, with many more to come, a remarkable, living legacy.
"The Leatherdale family passion for education and building capacity in our community is inspiring to all of us in the UWinnipeg community" – Dr. Annette Trimbee, UWinnipeg President and Vice-Chancellor.
---
Next >
< Previous