Dr. Marlys Koschinsky
Alumna, Medical Researcher
---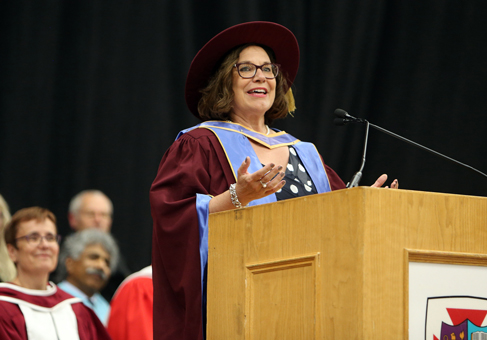 Advancing cardiovascular disease research
An alumna of both the Collegiate and The University of Winnipeg, Dr. Marlys Koschinsky is internationally renowned for her innovative research into lipoproteins and cardiovascular disease, and has published prolifically on the results of her research.
Koschinsky completed a 4-year degree in biology in 1982, and was awarded the Chancellor's Gold Medal for highest standing in the 4-year science program. She went on to complete a PhD in biochemistry at the University of British Columbia, supported by graduate scholarships from NSERC and the Medical Research Council of Canada.
In 1988, Koschinsky received a university-industry postdoctoral award from the Medical Research Council of Canada to further her training in the Cardiovascular Research Group at Genentech, Inc. in San Francisco.
In 1991, she accepted a tenure-track faculty position in the Department of Biochemistry at Queens University, which was followed by a 5-year scholarship from the Heart and Stroke Foundation of Canada and a 10-year Career Investigator award from the Heart and Stroke Foundation of Ontario.
After serving as Chair of the physiology department at Queens, she became the Dean of Science at the University of Windsor, and was subsequently recruited as Scientific and Executive Director of the prestigious Robarts Research Institute. In this capacity, Dr. Koschinsky is an internationally recognized opinion leader in the area of lipoprotein(a) research.
She has published more than 130 peer-reviewed scientific papers; authored ten book chapters; and delivered 82 invited lectures across Canada, the United States, Europe, and Japan.
The University of Winnipeg Alumni Association presented Koschinsky with the Distinguished Alumni Award at UWinnipeg's Spring 2017 Convocation ceremonies.
---
Next >
< Previous