Geneva Athena Cloutis
Convocation
---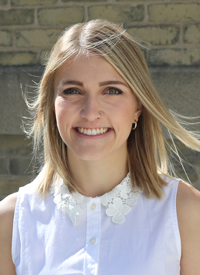 Geneva Athena Cloutis, BSc (Hons)
Valedictorian
Known for her intellect and scholarly ability, Geneva Athena Cloutis has a fluidity of comprehension in both the social and natural sciences. This breadth of knowledge encompasses environmental science, Indigenous issues, and physical geography — and is reflected in her renowned Socratic discussions in class. She is graduating with a Bachelor of Science (Honours).
Cloutis has an exceptional academic record that includes 18 scholarships and awards, including a Natural Sciences and Engineering Research Council (NSERC) Undergraduate Student Research Award, as well as a UWinnipeg Undergraduate Student Research Award in the Humanities and Social Sciences.
Her first taste of real research in the sciences began during her final year at Grant Park High School. Cloutis was selected to accompany the Canadian Coast Guard Arctic research team for two weeks on the CCGS Amundsen, a Canadian research icebreaker that sails in the Arctic Ocean, as part of the 2011 Schools on Board field program through ArcticNet. This adventure included a two-day cultural trip to Kugluktuk, Nunavut. During this time, Cloutis was exposed to real science and research "in action," as well as social issues and the vulnerability and opportunities that remote northern communities face.
In the fall of 2015, she participated in the Haida Gwaii Higher Education Society semester in Natural Resource Science on the island archipelago of Haida Gwaii in British Columbia. Combined with her Arctic journey, this experience cemented Cloutis's commitment to science and Indigenous issues related to environmental management and governance. These disciplines are echoed in her honours thesis, Towards an Indigenous specific engagement process in environmental assessment in Manitoba.
Cloutis has been accepted to the University of Waterloo where she will pursue a Master of Environmental Studies — honing her knowledge in Indigenous governance and environmental policy with a particular interest in using education as a tool for reconciliation with Indigenous communities and building social capacity within sustainability initiatives.