Adam Bergman
Convocation
---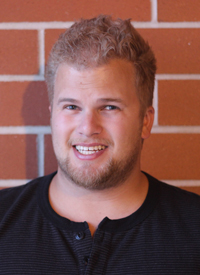 Valedictorian
Bachelor of Business Administration
As Adam Bergman graduates with his 4-year Bachelor of Business Administration degree, he is already taking what he learned in class and applying it in the real world — with "real people and real money," as he says. A double major in marketing and human resources to his credit, Bergman is employed at his friend's construction company, a small business that allows him to have a hand in everything.
Bergman says that small class sizes and one-one-one relationships with professors in UWinnipeg's Faculty of Business and Economics were highlights of his educational experience. "There is an open door feeling, where you can drop in and have a coffee." He also values the interdisciplinary approach to business that allowed him to take courses outside his majors, such as computer science and nutrition.
Bergman is a member of the Golden Key International Honour Society, which supports and rewards top academic achievers. He has received numerous academic awards, including: Chancellor R.O.A. Hunter Scholarship in Business & Administration, Dean's Honour List-Student of Highest Distinction, Academic Proficiency Scholarship, Grace O'Farrell Scholarship, Academic Proficiency Scholarship, R. Fletcher Argue Scholarships, The Robert Lothian Human Resources Award, and the Buhler Business and Administration Major Scholarship.
Outside of class, Bergman is a drummer in a band and dedicated humanitarian. He has worked abroad in Africa and the Philippines, serving communities in need. Bergman is considering pursuing a Master's degree in the next several years, with a career goal that blends business and humanitarian work in the non-profit sector.
His advice to fellow graduates is to continue building people networks, while staying connected with professors and staff in the business faculty.
Photo supplied