The Model School
Community Learning
---
Donors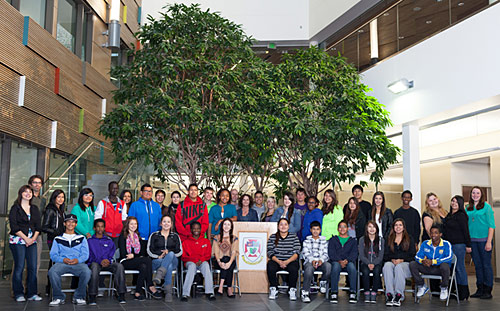 Model School students class of 2012-2013, photographed inside the Power Corporation Atrium, Richardson College for the Environment and Science Complex
Our mission at The University of Winnipeg is to inspire all students to achieve their full potential. Our primary responsibility is to offer our students a community that appreciates, fosters, and promotes access and excellence.
The Model School is located within The University of Winnipeg Collegiate with approximately 50 students from grade 9-12 are enrolled in the program. The students are identified by public school educators as well as non-profit organizations as being bright and capable of university entrance, but having various barriers that require extra supports to overcome. 
Each student is part of the development of an Individualized Education Plan in which goals and objectives are outlined based on their individual needs. It is our goal to provide the opportunity and supports needed to assist the First Nation, Métis, new Canadian and inner-city youth in achieving academic success and to see themselves as university-bound. We have had 72 students graduate since 2008 with 75% continuing on to college or university studies. 
The Model School uses Manitoba Provincial curriculums in all subject areas. We offer innovative, creative and engaging programming with culturally appropriate educational material, teaching practices, and language preservation within the curriculum. Students are supported in a variety of areas including registering for courses, tutorial support for academic subjects, social, emotional, and financial support, and preparation for university entrance.
Students in the Model School program receive a full bursary and are provided with continued support including transportation costs, nutrition, equipment and materials.  Students also receive access to recreation and sports programming.  The Model School offers many extra-curricular activities to extend the school day, including a variety of sports teams, dance, art, drama, and community development projects.  Students are also trained in First Aid and CPR, coaching, refereeing, babysitting and other certifications to promote academic and personal success.
Throughout the school year students participate in leadership initiatives and employment readiness programs. These programs prepare students for summer employment and Model School students are hired by the University's Adventure Kids Summer Camp to work as Junior and Senior Camp Leaders giving them practical, hands on job experience.
All students are enrolled in the University's Opportunity Fund Tuition Credit Account program, where they can earn up to $4,000 in tuition credits. They can use these tuition credits upon completion of Grade 12 to attend UWinnipeg.
For more information please contact:
Ian Elliott
Director of the Model School
email: i.elliott@uwinnipeg.ca 
phone: 204.258.2961