Katherena Vermette
Alumna, Author, Poet
---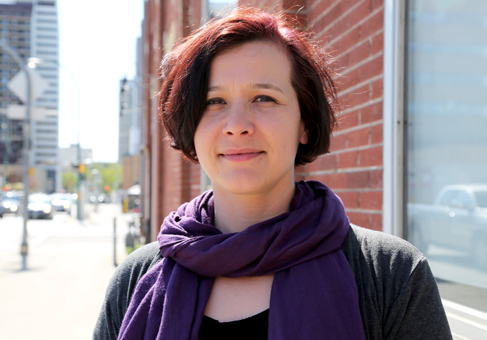 Creating distinctly Métis literature and knowledge
University of Winnipeg graduate Katherena Vermette is a Métis writer who is crafting award-winning poetry and stories.
Her debut novel about a young Métis mother in Winnipeg's North End, titled The Break, is garnering strong reviews from national media and critics, including The Globe and Mail, which calls it "an incredible feat of storytelling."
Her first book, North End Love Songs, won the Governor General Literary Award for Poetry in 2013.

Vermette says her Métis identity is an intrinsic influence: "I've always known my culture. It is who I am."
She credits her years at UWinnipeg with helping to shape her as a writer and it's also where she connected with the Indigenous Writers Collective and the Writers Collective of Manitoba — both important support networks of peer for Vermette.
Although she's busy working and raising children, Vermette had a thirst to know more about literature.
She graduated from UWinnipeg with a BA in English in 2012 and went on to earn a MA in fine arts at the University of British Columbia.
"Fiction is capable of helping us to comprehend difference and otherness, and The Break offers clear insight into people struggling to secure a place in the world" – excerpt of a review of The Break, which appeared in Quill and Quire.
---
Next >
< Previous