Joseph Stern
Alumnus, Human Rights Champion, Refugee Advocate
---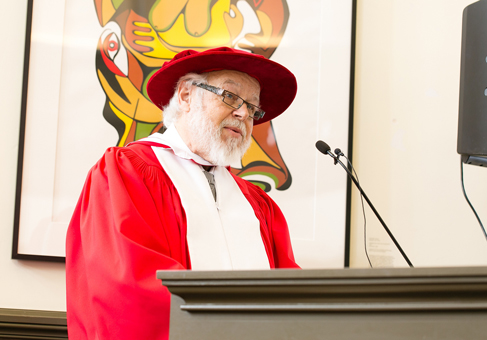 Making Canada a more welcoming place for refugees
Five decades ago, Joseph (Joe) Stern made an indelible mark on his campus as Senior Stick of United College. Stern played an integral role in establishing the independence of the institution that laid the foundation for The University of Winnipeg.
Since then, Stern has become an important global citizen whose commitment to justice, development, and good governance has made a significant impact to communities both in Canada and abroad.
Although Stern jokes that in his United College days he was considerably more committed to student activism than to academics, his degree in economics took him from Winnipeg to Ottawa where his leadership abilities and intellectual intensity were quickly recognized. He excelled in the federal public service, and at the age of 42 took on the challenging role of managing the refugee determination process and helping to shape Canadian refugee policy.
As chairman of Canada's Refugee Status Advisory Committee (RSAC), Stern contributed a humane and progressive voice to the international conversation on how the democratic West can — and should — help the world's dispossessed and persecuted. As chairman of RSAC, Stern established Canada as the first refugee-receiving country to recognize that sexual orientation and the particular vulnerability of women may give rise to a well-founded fear of persecution. Stern's work earned him the Raoul Wallenberg Humanitarian Award.
When Stern finished his tenure with RSAC, he embarked on a successful career promoting what he would call Canadian values around the world. As an internationally recognized authority on human rights and democratization, Stern has worked across Asia, Africa, and both Americas on behalf of both government and non-governmental organizations.
Some of Stern's projects have taken him to the poorest, most desperate and sometimes most dangerous parts of the world. 
After the Rwandan genocide, Stern led a mission on behalf of the Government of Canada to that country to assist in the process of establishing rule of law. He participated in a similar initiative in Afghanistan after the end of Taliban rule. He has helped various African countries to establish human rights commissions. One of Stern's assignments — given directly from then United Nations Secretary-General Kofi Annan — was to help his Special Envoy mediate the conflict along the Ethiopian-Eritrean border that was a continuing source of instability in the region.
---
Next >
< Previous