Howard Pawley
Alumnus, Politician, Academic
---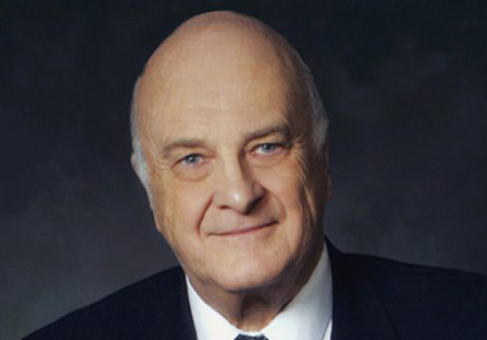 Making a lasting mark in politics and education
The late Howard Pawley was a distinguished University of Winnipeg alumnus (BA 1957), politician and academic.
Pawley worked as a lawyer and educator, and was active in the Manitoba Co-operative Commonwealth Federation (CCF) and its successor, the New Democratic Party of Manitoba (NDP). In 1957, Pawley was elected president of the Manitoba CCF — becoming, at the age of 22, the youngest president in the party's history. 
During his political career, Pawley served as a MLA for Selkirk from 1969 to 1988. He held several cabinet positions in the NDP administration of Ed Schreyer before becoming Leader of the Official Opposition from 1979 to 1981. After a successful election campaign in 1981, Pawley became Premier of Manitoba. After the defeat of the NDP government in 1988, he briefly practiced law before turning to academia.
In 1990, Pawley returned to his roots in Ontario to become an associate professor of political science at the University of Windsor. He also served as the Stanley Knowles Professor at the University of Waterloo and as a visiting professor in Canadian Studies at the University of Washington in Seattle.
In 2000, he was awarded the Order of Manitoba, and in 2001 he was made an Officer of the Order of Canada. Pawley was awarded the Distinguished Alumni Award from the University of Winnipeg in 2008. Pawley served as vice-president of the Canadian Civil Liberties Association, as an executive member of the Public Interest Advocacy Centre, as chair of the Harry Crowe Foundation and as vice-president of the Canadian Broadcast Standards Council. He was also a board member of the Erie St. Clair Local Health Integration Network.
Pawley was a gifted teacher who was respected for his championing of human rights, social justice, and economic development.
---
Next >
< Previous