Chris Minaker
Alumnus, Team-builder
---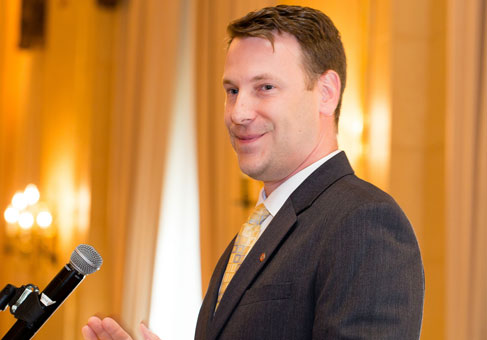 Creating a culture of teamwork and collaboration
Chris Minaker spends his days listening and engaging people in often passionate dialogues, with a goal of creating good policy and decisions. Currently the senior advisor to UWinnipeg's president and vice-chancellor, Minaker works with a wide diversity of people ranging from student leaders to the Board of Regents, a role that requires both an open mind and diplomacy.
Minaker acquired his leadership skills early and in 2003, became the president of the University of Winnipeg Students' Association. He graduated from UWinnipeg with a dual major in business administration and conflict resolution in 2004, and then obtained a master's degree in conflict analysis and management at Royal Roads University.
His service to UWinnipeg continued as a member of the UWinnipeg Alumni Association council from 2007 to 2013 (including as council president in 2011-12), where he introduced a mentoring service and actively fundraised for student scholarships and bursaries.
He spent seven years honing his talents with the Manitoba government in positions ranging from senior policy analyst to project manager. His career focus is on building and supporting strong teams and helping to create a culture where everyone's contributions are valued. Minaker's sunny disposition and approachable style of leadership are both infectious and get results.
"I believe that people working together towards the realization of shared goals can accomplish great things." — Chris Minaker
---
Next >
< Previous