Tanya McKay
Alumna, Coach, Mentor
---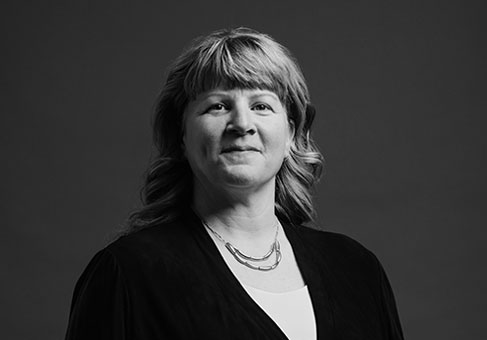 Taking coaching to the next level
Tanya McKay has served as Head Coach of The University of Winnipeg's Wesmen Women's Basketball program for almost two decades, using her position to mentor and inspire young women to not only be top athletes in Canada but also to be valuable members of society through volunteer efforts and giving back to the community.
As a young Wesmen player herself, McKay was a prolific scorer and captain and was recognized for her achievements by being awarded All-Canadian in 1989, 1990, and 1991. McKay bleeds Wesmen blood and has been a strong ambassador for UWinnipeg and for Winnipeg since she moved to the city in 1986.
During her time as head coach, she has coached more than 140 women and has an astounding 98 percent senior graduation rate. McKay has been on the bench for over 400 victories and coached her team to four National Championship appearances between 2000 and 2004. These young women take the many skills they have learned under McKay's tutelage and go forward as strong, independent young women. 
McKay is fair, but firm in her approach, and preaches accountability for your actions. She creates an environment that fosters individual growth and increased self-esteem. Many of her athletes have gone on to "pay it forward" by volunteering in the community as high school and provincial coaches, or volunteering in other ways.
Currently, McKay has 25 former athletes volunteering as coaches at various levels in the basketball community and is recognized for the support she provides her athletes long after they move on from the program. McKay not only spends countless hours to develop great basketball players, she also sees it as her number one responsibility to help her athletes achieve their academic goals and to develop and grow as positive role models in the community.
McKay was inducted into the Basketball Manitoba Hall of Fame in 2003, and has also been awarded as Coach of the Year (Open Category) for Basketball Manitoba in 2014 after leading her U17 Manitoba Provincial Basketball Team to a National Championship in the summer of 2014. 
In 2015, McKay was chosen as a finalist for YMCA-YWCA Women of Distinction Award for the city of Winnipeg in recognition of her numerous volunteer activities. She was also recently honored by Coaching Manitoba at the IMPACT Coaches Recognition Banquet for coaching 25 years in Manitoba.
In 2017, Tanya McKay was named the Canada West Women's Basketball Coach of the Year.
McKay has spent over 25 years in the Manitoba community as a coach at every level from community club basketball to the university level. She is tireless in her efforts to help Manitoba athletes be successful at the local, national and international level, with her involvement in coaches clinics, mentoring of high school coaches, volunteering on the Basketball Manitoba Board of Directors, and coaching countless athletes and provincial teams during the summer months.
McKay is a remarkable motivator and influence as the head coach of the Wesmen.
From 2000 to 2012, McKay founded and volunteered her time to run Take Me On, a basketball program created to coach young players and develop young female coaches. The "I Can Score" Basketball Program was created in 2014, and continues today to help local players develop one on one skills needed to take their basketball game to the next level.
McKay reaches out to the broader community as well and she is in her 8th year volunteering on a weekly basis at Brooklands Elementary School with her basketball club program on Tuesday's coaching boys and girls Grades 3-5.
She has a BA (91) and BEd (96) from UWinnipeg and is a NCCP Level IV Coach.
---
Next >
< Previous