Sterling Lyon
Alumnus, Lawyer, Former Premier of Manitoba
---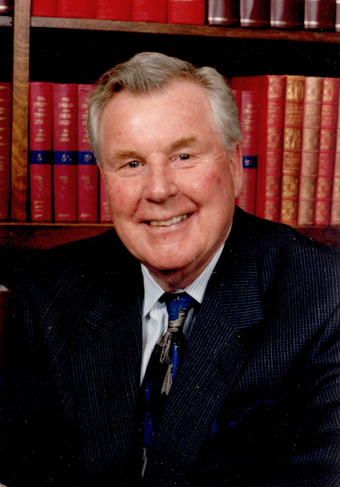 Defending parliament in a new sovereign nation
A lawyer and long-serving politician, the late Sterling Lyon became known as a staunch defender of legislative democracy during his term as leader of Manitoba's Progressive Conservative party from 1977 to 1981.
Lyon was born in Windsor, Ontario, before his family settled in Portage la Prairie, Manitoba. He graduated from United College (now The University of Winnipeg) in 1948, before attending law school and entering provincial politics a decade later.  
As premier, he was involved in the historic patriation of Canada's Constitution and the development of the Charter of Rights and Freedoms. Prior to this lengthy reform process designed to establish Canada as a sovereign nation, the country was governed by British laws. Notably, Lyon was among several premiers who successfully fought for the inclusion of the Charter's notwithstanding clause, which gives provincial legislatures, and not the courts, authority over constitutional matters.
Outside of public office, Lyon was a committed family man, an avid conservationist and a keen hunter. He was a longstanding member of the Delta Waterfowl Foundation and an honorary life member of the Manitoba Wildlife Federation.
In recognition of his lengthy public service, Lyon received the Queen Elizabeth II Silver Jubilee Medal and was inducted into the Order of Manitoba and the Order of Canada
Lyon passed away in 2010 at the age of 83.
---
Next >
< Previous