Dr. Lloyd Axworthy
Alumnus, Former UWinnipeg President and Vice-Chancellor
---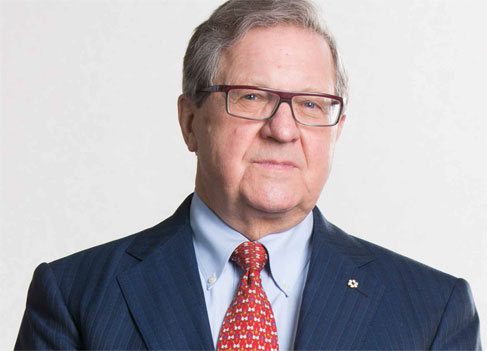 Championing Human Rights from the North End to the global stage
Dr. Lloyd Axworthy's impact on the global stage has earned him a Nobel Peace Prize nomination, but his dedication to local issues and Winnipeg youth is equally profound. He credits his North End roots for keeping him grounded. 
Axworthy graduated with a BA from United College (which later became The University of Winnipeg) in 1961, and received an MA and PhD from Princeton in 1963 and 1972, respectively.
He returned to his alma mater in 2004 and served two full terms as the University's President and Vice-Chancellor before retiring in June 2014.
While at UWinnipeg, Axworthy worked to renew our campus and to make post-secondary education more accessible to inner-city, Indigenous, new immigrant and refugee students. During his tenure, UWinnipeg attracted an unprecedented $217-million in new investment and became a primary anchor in downtown renewal.
Creating a culture of inclusion has seen UWinnipeg's self-declared Indigenous student population grow to more than 10 percent, among the highest in Canada.
In 2007, Axworthy established the Opportunity Fund, which has raised millions in donations to support inner-city youth. More than 250 of those students have now graduated from university. He also pioneered tuition waivers for youth leaving the child welfare system, allowing them access to a university education — a model that has been replicated at post-secondary institutions across Canada.
Axworthy's previous career in Canadian politics spanned 27 years. He held several Cabinet positions, most notably Minister of Foreign Affairs from 1996 to 2000, where he became known for his advancement of the human security concept, and in particular, the Ottawa Treaty — a landmark global treaty banning anti-personnel landmines. For his leadership, he was nominated for the Nobel Peace Prize.
He also received the North-South Prize of the Council of Europe for his pivotal role in establishing the International Criminal Court and the Protocol on child soldiers.
In 2010, Axworthy was honoured by the Sagkeeng First Nation with an Ojibwe name — Waapshki Pinaysee Inini, which translates to White Thunderbird Man. Currently he is Chair of Cuso International.
---
Next >
< Previous