King Memorial Window Restoration Unveiling
---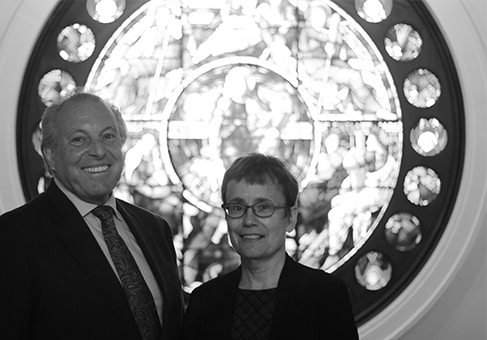 SEPTEMBER 21, 2015: The University of Winnipeg unveiled the successful restoration of its historic stained glass window Theology, Queen of Sciences Surrounded by Faith, Love, Hope, Wisdom, Moral Conduct, Humility, and Love of Learning. A reception to mark the restoration launched the University's Artsfest, a campus-wide celebration of art and culture. It took place in the Carl Ridd Sanctuary located on the main floor of Bryce Hall, followed by a performance featuring faculty from the Manitoba Conservatory of Music and Arts.
The restoration of Theology took place between September, 2014 and April, 2015 and involved the expertise of several artists and contractors. The window was removed from its location by Prairie Stained Glass and taken to their studio. The lead caming that held the glass pieces together had reached the end of its life span, so it was removed and replaced with new caming. Several pieces of glass had cracked and were repaired. Other glass pieces had paint on them that had begun to flake off – the result of an improperly executed restoration that likely took place when the window was moved into Bryce Hall in 1951. These pieces were re-created using appropriate techniques and remaining true to the colour palette of the original work of art. The wood frame that surrounded the window was rotten as a result of decades of direct exposure to the elements on the building's exterior. Yarrow Sash and Door's woodworkers created a new mahogany frame for the window. The company also provided a protective, sealed glazing unit that covers the window and its frame to prevent the reoccurrence of exposure to the elements and to any moisture damage to the work. After careful reinstallation and repairs to the building's vestibule roof above which the window sits, this beautiful work of cultural heritage will be appreciated by the University community and its visitors for many years to come.
Click for additional information. 
---
< Back to Milestones