McFeetors Hall ribbon-cutting
---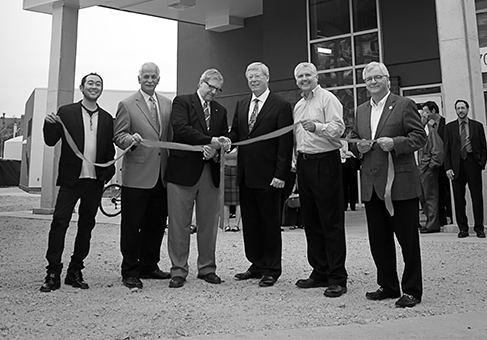 SEPTEMBER 12, 2009: The University phased out its residence buildings, Sparling and Graham Halls, and converted them entirely to offices by 1989.  The campus then went without any residence for thirty years, leaving students to rent in the various rooming houses and apartment buildings in the surrounding neighbourhoods.
Alumnus Ray McFeetors made the new residence possible through a generous personal donation, supplemented by a further donation from Great-West Life and funding from the Province and the University's ongoing capital campaign.  The building was designed by Prairie Architects and its construction began July 30th, 2008 on Langside Street.  The residence offered traditional dormitory units with common areas and kitchens, as well as townhouse-style apartments intended for students with families.  The design also included a new building for the UWSA Daycare adjoining the residence, further increasing the accommodation for student parents.
Both buildings earned Silver LEED Certification, and McFeetors Hall was awarded the 2010 Accessibility Award by the City of Winnipeg.
---
< Back to Milestones