2017 is UWinnipeg's 50th Anniversary!
Posted on: January 3, 2017
---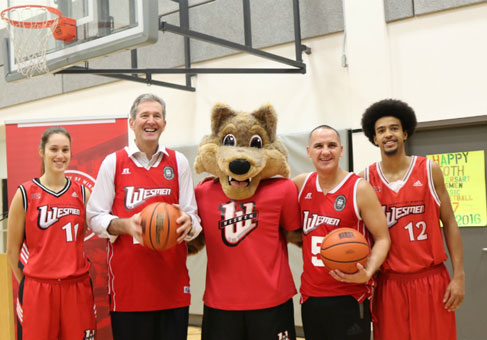 WINNIPEG, MB –The University of Winnipeg community is proudly celebrating 50 years of nurturing talent with numerous events planned for 2017, ranging from academic lectures to a community fair to profiles of faculty, staff and alumni in a series called "Impact 50." 
The first big campus event to mark the anniversary was the 50th annual Wesmen Classic, which took place December 27 to 30, 2016 in the Duckworth Centre. 
Next up is Moving Images at UWinnipeg's Gallery 1C03 on campus: an exhibition of 23 short films and videos created by artists affiliated with The University of Winnipeg. Moving Images is organized in recognition of Gallery 1C03's 30th anniversary and the University's 50th anniversary. The exhibition runs from January 12 to February 18 and is co-curated by Gallery 1C03 director/curator Jennifer Gibson and art historian and film critic Alison Gillmor.
The University of Winnipeg received its charter from the Government of Manitoba on September 15,1967 but its roots date back more than 145 years. The founding colleges were Manitoba College (1871), and Wesley College (1888), which merged to form United College in 1938. The motto — Lux et Veritas Floreant – Let Light and Truth Flourish – remains.
More than 50,000 graduates have added their unique talents to every facet of life in our province and country: Margaret Laurence, Susan Thompson, Raymond McFeetors, Tina Keeper, Ida Albo, David Bergen, Fred Penner, Shaneen Robinson, Lloyd Axworthy, Guy Maddin, Jamie Wilson, Howard Pawley and Sterling Lyon — all are our alumni, to name just a few.
"For decades, the dedicated faculty, staff and coaches at The University of Winnipeg have been inspiring minds and nurturing students who have gone on to become leaders in all aspects of Manitoba's culture and economy, as well as Canada and abroad," said Dr. Annette Trimbee, President and Vice-Chancellor. "Our graduates share their knowledge and expertise in every walk of life:  they are our writers, entrepreneurs, scientists, climate change researchers, and educators. They are community builders, and we look forward to sharing their many stories of impact in the coming months. "
Trimbee noted that just as importantly as celebrating our past, is embracing our future. Incoming First Nations, Métis and Inuit youth now make up 12% of UWinnipeg's student body and those self-identifying as racialized are 22% of the campus population.  "We consider this incredible diversity of talent our biggest strength," said Trimbee.
To kick off the year-long celebration, Manitoba Premier, Brian Pallister, and former MLA Kevin Chief, who both have deep Wesmen connections, graciously hooped it up in a friendly rivalry last month at the Axworthy Health and RecPlex Community Gym. Pallister, who played for the Brandon University Bobcats, met his wife Esther while attending a UWinnipeg basketball game. He received some coaching help from their daughter Shawn, who is a talented forward with the Wesmen Women's Basketball team. Chief, a Wesmen Basketball star and UWinnipeg graduate, was assisted on the court by a current Wesmen captain, Jamar Farley.
"Education is about inclusion and opportunity; it is the path forward to personal success and growth," said Premier Brian Pallister."On behalf of all members of the Manitoba Legislature, congratulations to the University of Winnipeg on 50 years of educating and enriching the lives of our future generations."
– 30 –
MEDIA CONTACT
Diane Poulin, Senior Communications Specialist, The University of Winnipeg
P: 204.988.7135, E: d.poulin@uwinnipeg.ca 
Pictured above:
Wesmen Forward, Shawn Pallister, Brian Pallister, Wes Lee Coyote, Kevin Chief (MLA), Wesmen captain, Jamar Farley, ©UWinnipeg
---
< Back to listing