Carol Shields
Author, Playwright, Poet, Former UWinnipeg Chancellor
---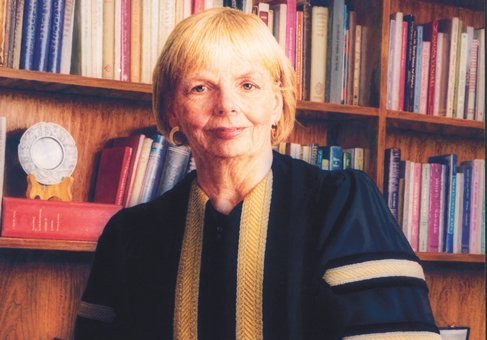 Encouraging community through mentorship and writing
Award-winning author, playwright, poet, and literary critic, the late Carol Shields was well-loved. She was a gifted writer who supported emerging writers, mentored students, and encouraged members of the writing community.
During her term as The University of Winnipeg's Chancellor, Shields took part in countless classes, committees, readings, and symposia. She wore her love for UWinnipeg on her sleeve and was a tireless advocate for the University and was committed to every facet of campus life.
In her writing, Shields was renowned for her compassion and ability to create intimate worlds of great beauty and depth from seemingly ordinary events and people. Shields left an indelible imprint on all the lives she touched through her writings and with her personal charm when meeting people.
UWinnipeg unveiled Larry's Bench in her honour, a place of respite and reflection in the heart of the campus — it is named fondly after a protagonist in one of her novels. This too, reflects the legacy of her kindness and generosity that lingers and keeps her spirit alive on campus.
UWinnipeg also established The University of Winnipeg Carol Shields Writer-in-Residence Program, which affirms her lifelong reputation for supporting local writers, thanks to a generous donation by the Shields family.
---
Next >
< Previous