Colin Russell
Alumnus, Faculty Member, UWinnipeg Registrar
---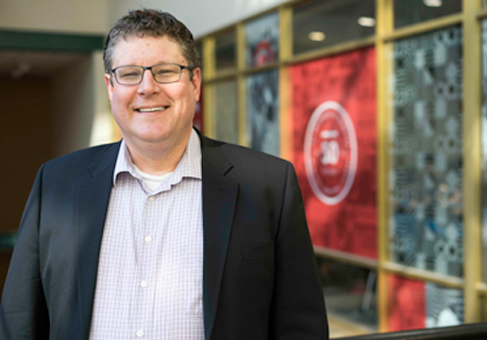 Dedicating a career to improving UWinnipeg
From student, to staff member, to administrator, Colin Russell's multi-faceted career at The University of Winnipeg has contributed to his positive impact as the University's Registrar.
Russell's UWinnipeg career began in the Media Services department, where he worked as a 16 mm film projectionist during his undergraduate degree. After graduating with a BA (Hons) in English and a degree in education — as well as an MA in English from the University of Manitoba — Russell took on a term position as a reference clerk, tutor, and marker at UWinnipeg.
He later joined Academic Advising and went on to become the director of the department before assuming his current position in 2006.  
As University Registrar, Russell sits on various Senate committees and deals with non-academic misconduct. He is also responsible for academic partnerships and joint programs, is a liaison between the University and the Government of Manitoba, and oversees student records.
In addition to his administrative responsibilities, Russell teaches classes in the Department of English and — as a classically-trained singer — can often be heard performing the national anthem at UWinnipeg convocation ceremonies.
Russell is described by colleagues as open, respectful, and tactful with a quiet demeanor. His wealth of personal experience gives him exceptional insight into every level of life on campus and makes him an invaluable member of the University's community.
---
Next >
< Previous