Drs. Chander and Daya Gupta
Physicians, Philanthropists
---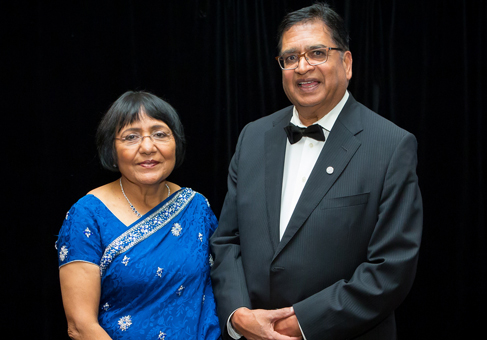 Improving health research at UWinnipeg
Drs. Chander and Daya Gupta are among Manitoba's most accomplished medical professionals and humanitarians.
Chander is an uro-gynaecologist, a national authority on urinary incontinence, and an advocate for women's health. She was the first Manitoba gynaecologist to perform uro-dynamics studies on female patients and a pioneer in using new procedures to improve the quality of life for countless Manitoba women.
She is well known in the medical community for her outstanding contributions as clinician, teacher, role model, mentor and patient advocate.
She was awarded the Order of Manitoba in 2005; the YM-YWCA Women of Distinction Lifetime Achievement award in 2015, and the Manitoba Medical Association Physician of the Year Award in 2004.
Daya is a leader in the community, a champion of eye health and a generous philanthropist. For the last 40 years, he has been recognized as one of the top cataract surgeons in Manitoba, having pioneered the out-patient small incision surgery for cataracts. He also opened one of the first refractive eye surgery clinics in the province.
Daya is chief eye surgeon at the Gupta Eye Centre, as well as medical director of the Ultravision Eye Laser Centre. He has performed almost 50,000 successful cataract surgeries and provided treatment to more than half a million Manitobans during his career.
A pioneer in eye health, Daya is the founding president of Manitoba Association of Asian Physicians and has participated in annual Eye Camps in India, providing those in need with free surgeries and glasses.
In 2014, the Gupta family made a very generous donation in support of high quality applied health research and scholarship at The University of Winnipeg, and was honoured with the naming of the Gupta Faculty of Kinesiology and Applied Health. The Guptas have established numerous scholarships the UWinnipeg community to support academic and athletic talents.
In addition to being advocates for education and medical research, the Guptas are avid golfers and strong supporters of Winnipeg's Niakwa Country Club.
---
Next >
< Previous