Kevin Chief
Alumnus, Athlete, Educator, Collaborator, Business Leader
---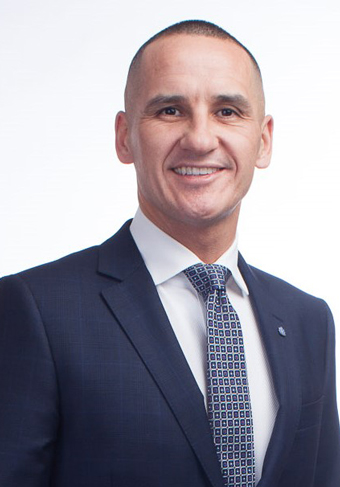 Reaching out to inner city youth
"The key is to look in the eyes of a child and see the potential and possibilities, instead of focusing on the challenges and barriers" – Kevin Chief.
Kevin Chief came to The University of Winnipeg on a basketball scholarship and quickly became a Wesmen Athletics all-star athlete before graduating in 1998 with a bachelor's degree in criminal justice.
Reaching out to Indigenous and inner-city youth to encourage and support them to stay in school became his passion. He helped develop UWinnipeg's community outreach programs so that children who face multiple barriers could overcome obstacles and find a place to belong on the University's campus.
This work included establishing the popular Eco-Kids Summer Camp (now called the Adventure Summer Camp) — the largest free day camp for inner-city youth. Thousands of children have enjoyed the camp experience as a result.
The emphasis of his work has been to create, develop, and implement programs, initiatives, and opportunities for children, youth, and students to develop their potential, increase academic achievement, and acquire a desire to learn. Chief's leadership style is collaborative and inclusive, and he is a role model, mentor, and inspiration to many young people.
Chief is a proud North Ender and was elected to the Manitoba Legislative Assembly in 2011. He was appointed Minister of Children and Youth Opportunities in 2012, where he continued developing programs to help youth overcome hardship and adversity.
He has received numerous awards, including the 1994 Aboriginal Youth Achievement Award and the Premier's Volunteer Service Award. He is working towards a Master's degree in education at UWinnipeg.
Currently, Chief is the Vice-President of the Business Council of Manitoba.
---
Next >
< Previous