Dr. Jane Cahill
Faculty Member, Storyteller
---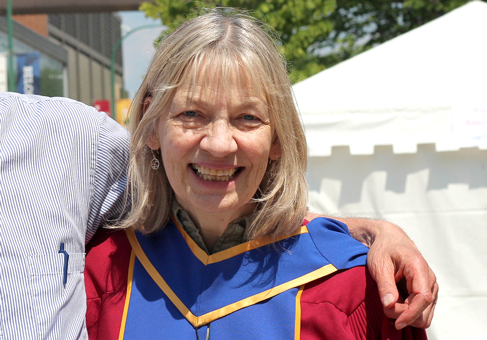 Promoting experiential learning in academia
Dr. Jane Cahill is a Professor in the Department of Classics, with an extraordinary career track that spans over four decades at The University of Winnipeg.
Born in England, Cahill moved to Canada to pursue her master's degree at the University of Western Ontario. She later attained her PhD from the University of British Columbia, and in 1976 was hired by UWinnipeg. In 2007, Cahill became the Chair of Classics, a position she held until 2013. From 2015 to 2016, Cahill served as Acting Chair of the Modern Languages and Literatures Department. She has introduced numerous successful courses at UWinnipeg, and has been an ardent promoter of experiential learning.
Cahill has shared her expertise in mythology and passion for storytelling in a variety of mediums. In the 1980s, she hosted the CBC program Dayshift's Guide to Classical Mythology. From 1990 to 1994, Cahill wrote a column in the Winnipeg Free Press. She is well known for questioning the patriarchal content of Greek myths. Her book Her Kind tells stories from the perspective of women in Ancient Greece. In 2015, Cahill was actively involved with the Winnipeg Art Gallery exhibition Olympus.
Cahill continues to be a constant supporter of contemporary women in academia. In 2002, she won the Clifford J. Robson Memorial Award for Teaching Excellence in recognition of her passion and dedication for teaching.
---
Next >
< Previous