Chantal Fiola
Urban and Inner-City Studies
---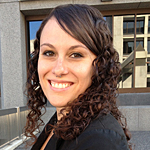 Title: Assistant Professor
Office: 527 Selkirk Avenue
Phone: 204.988.7185
Email: c.fiola@uwinnipeg.ca

Biography:
Dr. Chantal Fiola is Red River Métis Anishinaabe with family from St. Laurent and Ste. Geneviève, MB. She is the author of Rekindling the Sacred Fire: Métis Ancestry and Anishinaabe Spirituality, which won her the John Hirsch Award for Most Promising Manitoba Writer and the Beatrice Mosionior Aboriginal Writer of the Year Award (2016). She has a PhD in Indigenous Studies (Trent University), an MA in Sociology and Equity Studies in Education from the Ontario Institute for Studies in Education (University of Toronto), and a BA (Hons) in Women's and Gender Studies (University of Manitoba). She has been an Instructor for the Department of Native Studies at the University of Manitoba since 2012. Chantal is Midewiwin and participates regularly in Anishinaabe ceremonies.
Photo by Amanda Smart