THE LOVE OF THE NIGHTINGALE
Theatre and Film
---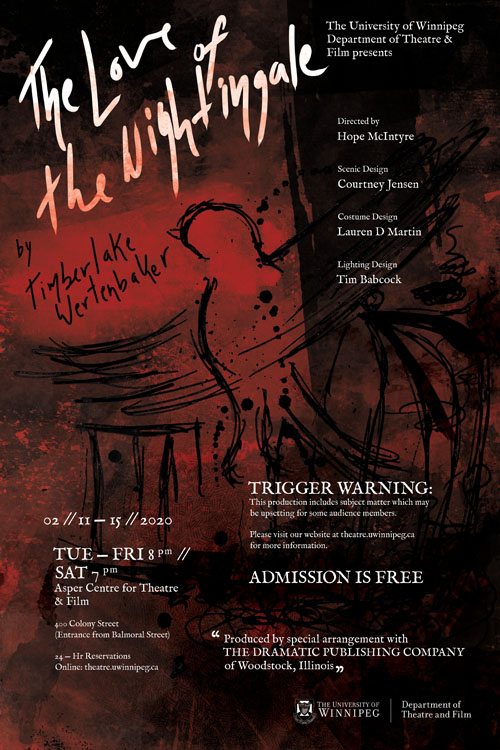 Performed by our Third Year Honours students and supported by our production and design students, this searing adaptation of an ancient Greek tale is directed by new faculty member Hope McIntyre.  The show runs at the Asper Centre for Theatre and Film from February 11 – 15, 2020.
Admission is free, but reservations are recommended.
To reserve tickets, book online or call the 24-hour reservation line at 204-786-9152.
Content warning: The play gives voice to those who are affected by violence; however the material may be triggering for some audience members.  To learn more about specific potential triggers, details may be found here.  Please note these details may reveal plot points. 
It has been more than 30 years since this powerful play was written and 20 years since it was performed at UWinnipeg, yet it remains as relevant as ever.  The Love of the Nightingale is an adaptation of the myth of Tereus, Procne, and Philomele, from Ovid's Metamorphoses. Wertenbaker resets the story of the rape and silencing of Philomele by her brother-in-law, Tereus, and allows the female characters to actively break the cycle of violence.
"It is unfortunate that this story continues to need to be told," said McIntyre, who is artistic director of Sarasvàti Productions, and a writer and director of profound, socially-relevant, provocative plays. "The myth that the play is based upon goes back to 8 AD. Wertenbaker updated it in 1988 to not just explore gender power, but depict how countries silence other countries in war. Thankfully with recent movements, more and more people are talking about the reality of gender violence, yet many leaders continue to get away with grave abuses of power."
This production uses a contemporary setting to highlight its relevance. The show features a passionate ensemble of 11 actors from UWinnipeg's third-year honours acting class, who bring this important story to the stage through puppetry, electronic dance music, powerful drama – and offer a message of possibility. Ultimately, the play gives a stage to those who are being silenced and offers hopeful transcendence.
This provocative production features set design by student designer Courtney Jensen, costume design by resident costumer Lauren D. Martin, and lighting design by long-time production faculty member Tim Babcock. All technical work is done by both junior and senior production students.
The Love of the Nightingale runs Tuesday, February 11 to Friday, February 14 at 8:00 pm, and Saturday, February 15, at 7:00 pm, at the Asper Centre for Theatre and Film (400 Colony Street; enter from Balmoral Street).