Andrew Forbes
Theatre and Film
---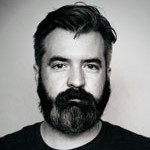 Title: Instructor
Office: 3T10
Building: Asper Centre for Theatre and Film
Phone: 204-258-3810
Email: a.forbes@uwinnipeg.ca
Degrees:

Masters of Fine Arts: Digital Futures                                 OCAD University
Bachelor's of Fine Arts: Image Arts - Film Studies          Ryerson University
Biography:
For over twenty years, Andrew has been exploring the relationship between visual design and storytelling as a cinematographer, artist, educator, and interactive designer.

He is fascinated by the narrative power of images, enjoys enjoys experimenting with their possibilities, and considers both a privilege and a responsibility to develop distinctive visual interpretations of a story. He holds an MFA as part of OCAD University's Digital Futures program and is an proud associate member of the Canadian Society of Cinematographers.

Andrew's production experiences have taken him all over Canada and around the world, with subjects as diverse as death-defying escapes in distant lands, the labyrinthine political arena of Turkish harems, potentially lycanthropic adolescents and fantastic family adventures in northern Saskatchewan.

His creative curiosity, teamed with an ever-expanding technical and theoretical knowledge base, has produced experiments in stereographic imaging, interactive narrative films for touchscreen devices, 360˚ video presentations and transmedia collaborations which are pushing the boundaries of what's possible with images and story.

As an educator, Andrew has led technical and theoretical workshops for organizations such as the National Screen Institute of Canada, the Winnipeg Film Group, Film Training Manitoba, OCAD University and Freeze Frame Media Arts Centre.
Affiliations:

Canadian Society of Cinematographers: Associate Member
OnScreen Manitoba: Active Member
Teaching Areas:

Film Production, Cinematography, Editing, Sound Recording, Film Theory, Film History
Courses:

THFM-1010-001 Introduction to Film
THFM-2310-001 Filmmaking I: Screen Narrative Technique
THFM-3310-001 Filmmaking II: Directing the Short Film
Publications:

Selected Production Credits:
Diaspora                                                                           Dramatic Feature                             2020
First Contact Canada Season I - II                                      Education Series                    2018 - 2019
Bella Ciao!                                                                        Dramatic Feature                             2018
Recipe for Danger                                                             Movie of the Week                            2018
Indictment: the Crimes of Shelly Chartier                            Feature Documentary                       2017
Escape or Die!                                                                   Travel Series                                   2016
Last Stop to Armageddon                                                   Documentary Feature                      2015
An Audience of One                                                           Interactive Short                             2014
Passionflower                                                                   Dramatic Feature                             2012
My Lupine Life                                                                  Web Series                                      2011
The Sultan's Women                                                          Feature Documentary                       2011
Wapos Bay Season III - V                                                  Stop-Motion Animation Series 2007 - 2010