Message from the Dean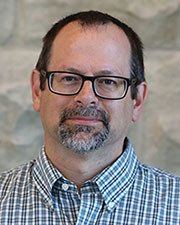 The academic year of 2021-2022 certainly provided some ups and downs for everyone in the Faculty of Science. Following what was a successful spring term, the Fall term looked as though we would have a return to near normal activities in the Faculty of Science. Unfortunately, and perhaps a bit unexpectedly, the winter term of 2022 began with a large majority of classes returning to remote delivery. This was a cruel development, especially for those of us who had an expectation for in-person teaching methods. Omicron (o) is not my favorite Greek letter. No wonder we never want it in an equation!
Despite our health restrictions in the province, students in every department showed creativity by adapting to their programs by exercising both in-person and remote options for achieving their research and scholarly goals. This was demonstrated in August when a small but dedicated group of students came together virtually for the Medical Physics Summer Student Symposium. Of the ten students who participated in this event, half of them had ties to the University of Winnipeg. In September, our students presented their work at the 16th Annual Randy Kobes Undergraduate Poster Symposium.  Once again, the hard work of Andrea Wiebe and Jenna Russell managed the administrative details which made this event a success. Dr. Melanie Martin (Physics) and Dr. N. Casson must also be acknowledged for their outstanding work to improve our student's experience every year with great ideas such as 'Tips and Tricks'. Last year I am proud to say that we had twenty-eight students participating via Zoom and prizes were awarded for the best posters in four categories: (1) Social Sciences; (2) Biological Sciences; (3) Experimental Physical Sciences; and (4) Mathematical and Theoretical Physical Sciences. To view the work of our students:  https://uwcloud.uwinnipeg.ca/s/nbS6cs7riEgoBGE
I am also pleased to report other activities in the Faculty of Science that we have been able to maintain and even strengthen during the past year. These activities include those of our student groups such as University of Winnipeg chapter of the Canadian Indigenous Science and Engineering Society (.caISES). Our Pathways to Graduate Studies (P2GS) which offers research opportunities for Indigenous students in STEM had nine students working with Professors from the Faculties of Science and the Gupta Faculty of Kinesiology. It is also worth mentioning our Indigenous Summer Scholars program (ISSP) which engages Indigenous students in a variety of scholarly projects that can be collaborative and community-based.
The Faculty of Science also provided many examples of outstanding research success, and it would be fitting to include a few of the highlights. In the Spring, NSERC announced the results of the Discovery grant competition. Among the winners were three professors Dr. T. Halabi, Dr. L. Mol, and Dr. G. Pokharel who were awarded their first NSERC Discovery grants. Dr. C. Henry (ACS), Dr. C. Storie, and Dr. J. Storie (Geography) continued research for Arctic Gateway Group in partnership with Grant Barkman (Decision Works) to develop innovative software for monitoring the rail line in Northern Manitoba. Dr. A. Diduck (ESS), Dr. K. Patel (Menno Simons College/CMU) and Aruna Kumar Malik launched their book 'Advancing Environmental Justice for Marginalized Communities in India - Progress, Challenges and Opportunities'. Notable in this book was the contributions of undergraduate students Ariane Dilay and Sean Goldstone and Avery Letkemann from ESS.
Researchers in the Anthropology Department made a number of significant research contributions. Dr. M. Roksandic, Dr. Chinique De Armas, and Dr. S. Hernandez Godoy analyzed the largest dataset of ancient viral genomes to uncover the evolution of the hepatitis B virus (HBV). Roksandic also led a team of researchers who proposed the naming of a new species of human ancestor, Homo bodoensis, who lived in Africa during the Middle Pleistocene, around half a million years ago, and was the direct ancestor of modern humans. Dr. Roksandic was part of another research team who discovered four teeth in Velika Balanica Cave in Sićevo George near Niš (Serbia) which were dated to approximately 300 thousand years old, making them the oldest Neanderthal (Homo neanderthalensis) fossils in Eastern Europe and the second oldest human fossils in Serbia. Dr. Chinique De Armas also led a research team to examine the burials of Bacuranao I, a prehistoric Indigenous population from Mayabeque (Cuba) in order to understand ancient infant feeding behavior.
In the Biology Department, Dr. A. Civetta made an important contribution to this research by analyzing patterns of evolution of the protein coding gene Nucleoporin 54 (NUP54). Dr. A. Shrivastav (Biology) and his team of researchers developed new, effective, and patient-friendly test to detect precancerous lesions and colorectal cancer. Dr. M. Martin (Physics) and her collaborators published the first study to infer human axon diameters on a 1–2 μm scale using oscillating gradient spin echo (MRI). Dr. C. Bidinosti (Physics) and Dr. C. Henry (Applied Computer Science) continued their work on robotics and autonomous vehicles in agriculture. Dr. E. Cloutis (Geography) was one of four Canadian university researchers to receive a funding grant from the Canadian Space Agency (CSA) to advance scientific knowledge of the Sun–Earth system, the solar system and the universe through participation in international science missions. Dr. Cloutis is also the Director for the Centre for Terrestrial and Planetary Exploration (C-TAPE) and he is a co-investigator on the Mastcam-Z instrument on NASA's Mars Perseverance rover.
October 10 was World Mental Health Day in 2021 and on this day the University of Winnipeg's Prairie Climate Centre (PCC) released new content related to mental health and climate change on the Climate Atlas of Canada. Led by Dr. I. Mauro, Dr. N. Casson and Dr. D. Blair, the PCC released Indigenous Knowledges content and data on the Climate Atlas of Canada 'by, with, and for numerous First Nations, Inuit, and Métis organizations and communities'. The significance and impact of their work was demonstrated by the media coverage it generated on CBC and CTV News - Winnipeg, the Winnipeg Free Press and the Toronto Star during the month of March.
The past year presented a number of challenges, and I would not feel right if I did not take the time to thank the unsung heroes who are our Department Assistants (DAs) and Technicians who went out of their way in the last year to make sure that courses were scheduled, labs were equipped, experiments were recorded and budgets were balanced. We also saw a personnel change in the Faculty of Science office with the addition of Dr. Melanie Gregg who seamlessly stepped in for a year as the acting Associate Dean of Science. A sincere thanks to both Dr. Gregg and Dr. Tabitha Wood for providing important leadership on students appeals, (bio)safety and, above all, on the Academic Covid Recovery Response Planning Team (ACRPT).
Of course, it is difficult to think of how the Faculty of Science would work without the diligence of Rebecca Stephenson in the Faculty of Science. From budgets to staffing, her hard work is highly valued among all DAs, Department Chairs and especially the Deans. Hidden from view during the pandemic this past year was Jenna Russell who quietly went about her business of managing our schedules in the Dean's office and preparing contracts for Science and Kinesiology. In addition, Jenna must be acknowledged for her willingness to step into the part time role of Department Assistant more than once, for the Department of Mathematics and Statistics.  
As interesting as 2020-2021 was for many of us, I look forward to the return of many of our in-person activities in the coming year, whether it is in the classroom, laboratory or boardroom.
Dr. Douglas Goltz
Dean of Science