Axworthy Health & RecPlex Community Charter Fund
Recreation Services
---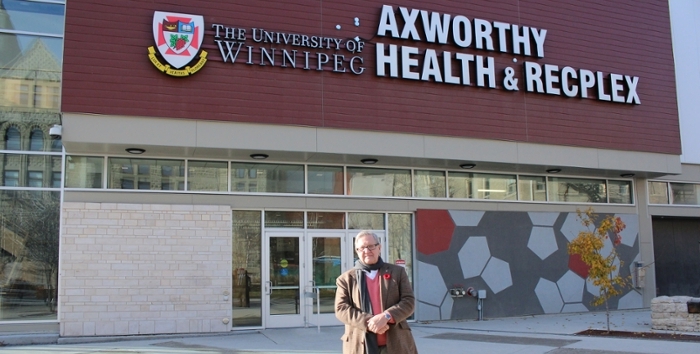 NEW! Axworthy Health & RecPlex Community Charter Fund - Application Deadline August 1st
On October 05, 2015, The University of Winnipeg Board of Regents unanimously voted to rename the new recreation complex on Spence Street the Axworthy Health and RecPlex to honour the many contributions of Dr. Lloyd Axworthy, alumnus and former President and Vice-Chancellor, who served from 2004 to 2014. Upon the opening of this facility in 2014, Dr. Axworthy had moved to ensure ongoing access for neighbourhood residents by establishing a unique Community Charter and a Community Access Advisory Committee to guide programming within the facility.
In response to the honour of the facility naming, as well as his personal belief in the importance of the RecPlex, and the significance of the Community Charter, Dr. Axworthy has agreed to assist The University of Winnipeg by helping to raise money for the purpose of allowing community programs and events to use the RecPlex with special preference to Newcomers. This promise has led to the establishment of the Axworthy Health & RecPlex Community Charter Fund which is now open for applications.
The Axworthy Charter Fund supports community programming in the RecPlex. Local community groups are encouraged to apply.
Grant requests will be reviewed by committee
A $5,000 cap will apply to each request
Grant must be used for programming in the RecPlex
Funding requests will be due by August 1, 2017
Awards will be announced September 6, 2017
The Community Charter at the Axworthy Health and RecPlex entrenches UWinnipeg's partnership in the community. The facility's schedule incorporates three key groups who are promised one-third access: community groups (subsidized access at no cost to groups); UWinnipeg groups (students, Wesmen athletes, faculty and staff); and rental groups (primarily amateur sports organizations). By reserving one-third of our facility's availability to the community at no cost, we are ensuring high quality programming where it is otherwise unavailable or unaffordable.
For more information or if you have questions about the application, please contact Cindy Doyle at c.doyle@uwinnipeg.ca
Please a signed, printed copy by mail to The University of Winnipeg Foundation c/o Cindy Doyle
901-491 Portage Avenue
Winnipeg, MB  R3B 2E4
Submit electronic (scanned and signed) copy to c.doyle@uwinnipeg.ca