UWinnipeg Pride Parade
Pride March
GENERAL INFORMATION
The March is happening on Sunday, June 5.
Please arrive at the University of Winnipeg's designated location by 10:00 am. The rally begins at 10:00 am and the parade begins at 11:00 am.
Please note the parade leaves at 11:00 am sharp! There will be warning calls at the 15-, 10-, 5-, and 1-minute marks prior to the parade commencement.
Our Parade Entry number is 92 – we will be assembling at Memorial Park in Aisle E
There will be Pride volunteers to help direct traffic as well as additional route marshals – they will be wearing pink t-shirts. Please connect with a volunteer if you need any assistance!
PARADE RULES
Do not throw anything to the crowd.
Use garbage cans.
If you feel harassed or threatened, speak to a marshal or site security.
Maintain a forward motion and stay with your group.
No open liquor or smoking in the parade.
The parade is expected to run approximately 2 hours (from 11:00 am – 1:00 pm)
Parade route – Memorial to Portage to the Forks: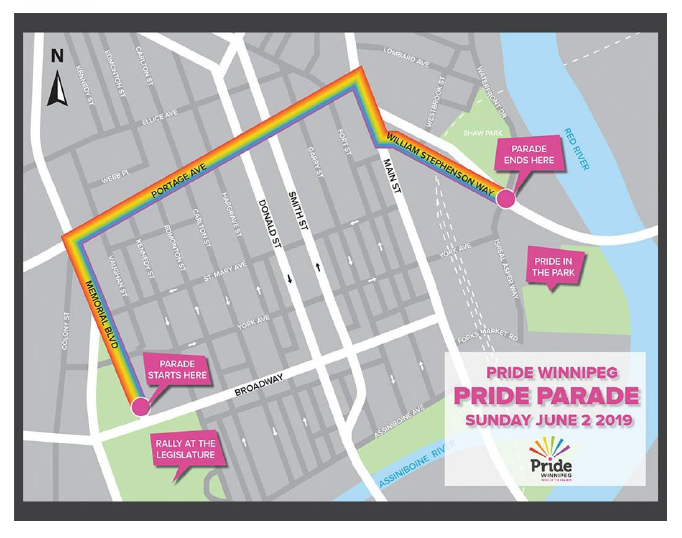 OTHER NOTES
We do not have a float this year – all participants will be walking. Please be prepared with comfortable shoes and whatever else you need!
UWinnipeg Pride t-shirts are available at the bookstore if you would like to wear one. Otherwise, wear whatever you like to show your Pride!
Thank you so much for your participation in this year's event. We all really appreciate your time and positive energy towards making UWinnipeg a supportive and inclusive environment!
For any questions or concerns relating to the University of Winnipeg's participation in the Pride Parade, please email Tatiana at t.carnevale@uwinnipeg.ca.