Chantal Fiola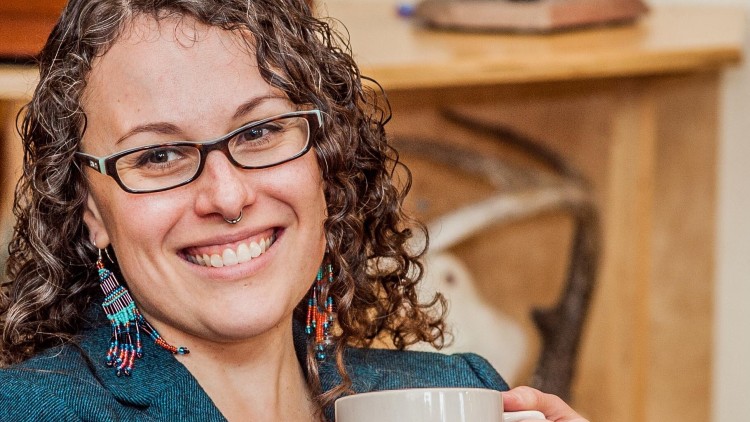 CHANTAL FIOLA
Associate Professor at UWinnipeg
Chantal Fiola is Michif (Red River Métis) with family from St. Laurent and Ste. Geneviève, MB. She is the author of Rekindling the Sacred Fire: Métis Ancestry and Anishinaabe Spirituality, which won her the John Hirsch Award for Most Promising Manitoba Writer and the Beatrice Mosionier Aboriginal Writer of the Year Award. Returning to Ceremony: Spirituality in Manitoba Métis Communities, to be released in fall 2021 (University of Manitoba Press), is her follow-up book. Dr. Fiola was named Distinguished Indigenous Scholar's Chair in 2021(-2024) by the University of Winnipeg (UW). She is an Associate Professor in the Department of Urban and Inner-City Studies at UW where she researches, publishes, and teaches in the areas of Métis (and selected First Nations) identity, culture, spirituality, history, sexuality, sovereignty, and methodologies. Chantal is two-spirit (2S) and was crowned the 2018-2019 International Two-Spirit Ogichidaakwe at the 31st International Two-Spirit Gathering. She is Midewiwin, a Sundancer, and lives with her wife and their daughter in Winnipeg.


What is your favourite dance tune?
It's decidedly not "dance music" but I think Jeremy Dutcher is magic. I also love Kinny Starr, Iskwe, and Melody McKiver.


What book/novel/play/poetry collection/textbook would you recommend everyone to check out during Pride Week, or any other week of the year?
Oh gosh, so many; here are a few:
Nîtisânak by Lindsay Nixon
Love After the End, edited by Joshua Whitehead
Way of Thorn and Thunder trilogy by Daniel Heath Justice is fun Anything (and everything) by Cree 2S scholar Alex Wilson!
What podcasts do you enjoy?
When I'm not working, I'm spending time with my baby – so, not much time for podcasts, but I've been wanting to check out "Métis in Space" with Molly Swain and Chelsea Vowel.


What film(s) or television show(s) feature stories that have resonated with you?
Johnny Greyeyes (film by Gail Maurice – so excited for the release of her new film: Rosie!)
Second Stories - Deb-we-win Ge-ken-am-aan, Our Place in the Circle (NFB documentary by Lorne Olsen)
The Business of Fancydancing (film by Sherman Alexie)


Anything else you'd like to share?
In true Indiginerd fashion, I'll share selected publications instead of trying to think of a clever and relevant anecdote, haha!
Fiola, Chantal. 2020. "Naawenangweyaabeg Coming In: Intersections of Indigenous Identity, Feminism, Sexuality, and Spirituality." In In Good Relation: History, Gender, and Kinship in Indigenous Feminisms, edited by Sarah Nickel, and Amanda Fehr, 138-153. Winnipeg: University of Manitoba Press.
Fiola, Chantal, and Sharanpal Ruprai. 2019. "Two-Spirit and Queer Trans People of Colour: Reflecting on the Call to Conversation Conference (C2C)." Canadian Journal of Native Studies 39(1): 45-64.
Fiola, Chantal, and Sharanpal Ruprai. 2019. "The Findings of C2C: Two-Spirit & Queer Trans People of Colour – Calls to Action." University of Winnipeg. https://www. uwinnipeg.ca/c2c/docs/c2c_calls-to-action_final.pdf
Fiola, Chantal. (October 2018). "We've Always Been Here: Two-Spirit People in the Midewiwin Creation Story." Red Rising Magazine (Two-Spirit issue), (7): 10-13.
Fiola, Chantal, & Albert McLeod. "Two-Spirit Resistance and Resurgence in Winnipeg." In L. Fontaine, J. Loxley, S. MacKinnon, K. Mallett (Eds.), Indigenous Resistance and Institutional Development in Winnipeg: 1950 – 2019. Winnipeg: Arbeiter Ring. (Keep an eye out for this upcoming publication!)