Amanda Kinden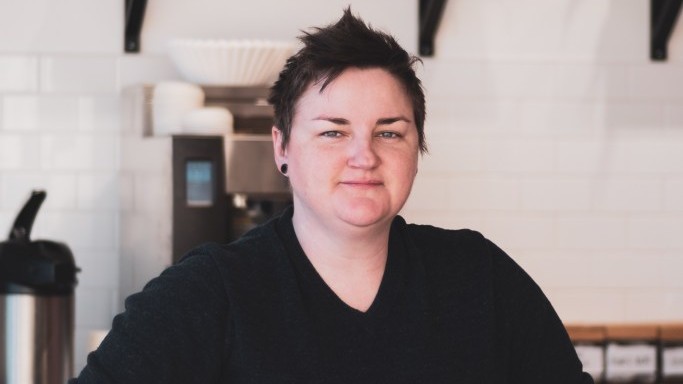 AMANDA KINDEN
UWinnipeg Alumni
Life-long Winnipegger and University of Winnipeg alumni Amanda Kinden started Oh Doughnuts in 2014 while working at Green Action Centre. She had a passion for baking and planned to start a modest dessert catering company on the side, but doughnuts had a different plan. Oh Doughnuts started in a shared kitchen, expanded to a humble little shop on Broadway, and recently grew again with its second beautiful location on Taylor Ave. 
What is your favourite dance tune?
Favourite dance tune...hmm, it's been a long while since I danced, but my favourite dance tune would be... "Baby Got Back" by Sir Mix-A-Lot.
What book/novel/play/poetry collection/textbook would you recommend everyone to check out during Pride Week, or any other week of the year?
I recommend the book Boys Like Her. It's a collection of short stories (some fiction and some not) and poems about gender in the 90's. It was one of the first queer books I purchased, and I purchased it from the infamous Little Sister's bookstore in Vancouver.
What podcasts do you enjoy?
I actually hate podcasts. Well hate is a strong word, but I don't really listen to podcasts. I did enjoy Serial, well the first season.
What film(s) or television show(s) feature stories that have resonated with you?
The movie Desert Hearts really stuck with me after the first time I saw it many moons ago. The vulnerability Helen Shaver portrays after her marriage ends and the subsequent rebuilding of her identity is captivating to watch. Not to mention the take-me-or-leave-me attitude of Patricia Charbonneau. 2nd runner up for a movie would be Thelma and Louise, and I don't think there is anything that needs to be said about that.
The thing I like to think about is how far we've come, but how far we still have to go, especially for Transgender folx. When I was young, Ellen DeGeneres lost her TV show (Ellen the sitcom) because she came out. Generations before me had to deal with much worse. And generations after me are still working for equality. Our Trans friends and family are facing some very difficult times, and need our love and support.