Dr. Christopher Bidinosti
Physics
---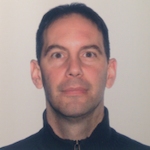 Associate Professor of Physics

Ph. D. (University of British Columbia, 2000) 

Phone: (204)786-9718
Fax: (204)774-4134
U of W office: 3L17
E-Mail: c.bidinosti@uwinnipeg.ca  
COURSES (2018-2019):
PHYS-2201 - Electricity & Magnetism
PHYS-4901 - Advanced Physics Lab
RESEARCH INTERESTS:
My main research interest is the development of novel techniques of nuclear magnetic resonance (NMR) and magnetic resonance imaging (MRI), with a particular focus on low field NMR/MRI and the use of hyperpolarized nuclei.  Applications of my work range from medical imaging to fundamental physics.  Current research projects and collaborations include (i) TRASE MRI, which is a new imaging technique that uses RF phase-gradient fields to achieve spatial encoding, (ii) experimental searches of the possible permanent electric dipole moment (EDM) of the neutron and Xe-129, and (iii) high performance computing using graphics processing units (GPUs).  I also have a general interest in magnetics, including coil design, active and passive shielding, and magnetometry.
RECENT PUBLICATIONS:
ML Honke and CP Bidinosti, "The metallic sphere in a uniform ac magnetic field: A simple and precise experiment ...", American Journal of Physics 86, 430 (2018).

T Sato et al., "Development of a co-located Xe-129 and Xe-131 nuclear spin masers with external feedback scheme," Physics Letters A 382, 588 (2018).

M Mercredi et al., "Assessing the accuracy of using oscillating gradient spin echo sequences with AxCaliber to infer micron-sized axon diameters", Magn Reson Mater Phy 30, 1 (2017).
T Andalib et al., "Sensitivity of fields generated within magnetically shielded volumes to changes in magnetic permeability", Nuclear Instruments and Methods in Physics Research A 867, 139 (2017).
VV Kuzmin et al.,"An improved shielded RF transmit coil for low-frequency NMR and MRI", Journal of Magnetic Resonance 256, 70 (2015).
JW Martin et al.,"Large magnetic shielding factor measured by non linear magneto-optical rotation", Nuclear Instruments and Methods in Physics Research A 778, 61 (2015).
RV Bergen et al.,"4D MR phase and magnitude segmentations with GPU parallel computing", Magnetic Resonance Imaging 33, 134 (2015).
CP Bidinosti, Y Sakamoto and K Asahi,"General solution of the hollow cylinder and concentric dc surface current", IEEE Magnetics Letters 5, 04800304 (2014).
CP Bidinosti and JW Martin,"Passive magnetic shielding in static gradient fields", AIP Advances 4, 047135 (2014).
ME Hayden, CP Bidinosti and EM Chapple, "Specific Absorption Rates and Signal-to-Noise Ratio Limitations for MRI in Very-Low Magnetic Fields", Concepts Magn Reson 340A, 281 (2012).
R Kraayvanger, CP Bidinosti et al.,"Measurement of alveolar oxygen partial pressure in the rat lung using CPMG spin-spin relaxation times of hyperpolarized He-3 and Xe-129 at 74mT", Magn Reson Med (2010).
CP Bidinosti et al., "A simple wide-band gradiometer for operation in very low background field", Concepts Magn Reson 37B, 1 (2010).