Winter 2019
Post Baccalaureate Diploma Program in Education
---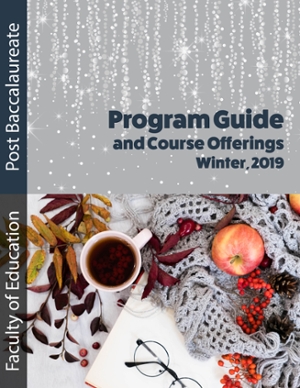 PBDE Program Guide and Winter Schedule [PDF]
Important Note: Students who have not registered for courses for one or more years must apply for Continuance before they can register. More information
EDUC-5001-001 ST: Project Based Learning — Theory
Instructor: M. Henderson
Dates and Times: Tuesdays, January 8 to April 2, 5:30 p.m. to 8:30 p.m.
Location: Online Asynchronous, high speed internet connection required
This course will explore theoretical understandings of project-based learning — that is learning through authentic, inquiry-based, and rigorous teacher and learner-led learning experiences. As a learning community, participants will examine a variety of conceptualizations of project-based learning, they will deconstruct what we mean by a project, and they will investigate how we create school cultures based on projects. This course will also focus on practical implications of PBL, including assessment, the conflict between inquiry and competencies, accessibility for all learners, and engaging educators within your school.
This course is an elective in the General, School Counseling, and Special Education streams.

Educ-5421-050 Theories and Issues in School Counseling
Instructor: C. Pitura
Dates and Times:
Monday, January 14, 6:00 p.m. to 9:00 p.m.
Saturday, January 19, 8:30 a.m. to 4:30 p.m.
Saturday, February 9, 8:30 a.m. to 4:30 p.m.
Saturday, March 2, 8:30 a.m. to 4:30 p.m.
Saturday, March 16, 8:30 a.m. to 4:30 p .m.
Monday, March 18, 6:00 p.m. to 9:00 p.m.
Location: Room 1L06 (1st Floor, Lockhart Hall)
This course provides an overview of the fundamental theories of counselling including: Psychoanalytic Therapy, Adlerian Therapy, Existential Therapy, Person-Centered Therapy, Gestalt Therapy, Behaviour Therapy, Cognitive Behaviour Therapy, Reality Therapy, Feminist Therapy and Postmodern Approaches. Major concepts and practices of the contemporary therapeutic systems are addressed and ethical and professional issues in counselling practice are examined. This is a core course in the School Counselling stream and an elective in the General and Special Education streams.


EDUC-5427-050 Supervised Counseling Practicum
Instructor: P. Locken
Dates and Times: TBA
Location: Off Campus, TBA
The practicum in school counselling provides an opportunity for students to synthesize the theoretical information on individual counselling and group counselling from their coursework and apply it in an early, middle, or senior years school setting. The course provides both a laboratory experience and a field experience under the joint supervision of a U of W supervisor and a site supervisor. The school counselling practicum is designed to assist students in learning the function and procedures that accompany the role of a school counsellor through observation, shadowing, and reviewing relevant documentation. Students are required to conduct online lab sessions and class discussions throughout the practicum. Students are expected to complete a minimum of 100 hours at the practicum site.
Prerequisites: Successful completion of all compulsory Core courses in the School Counselling Stream
a grade of B or higher in EDUC 5426 School Counselling Practicum Skills demonstrated evidence of professional behaviour and ethical conduct.
Additional Information: Field placements are limited and placements will only be arranged by the Faculty of Education Placement Coordinator. Students may not complete their practicum in the same school division, or during the same hours, in which they work. Students registering for this course require permission from the Faculty of Education. We are unable to accept visiting students from other universities/programs into this course.
Practicum Fee: Students enrolling in this course will be assessed a practicum fee of $300.69 in addition to regular course tuition. This is a core course in the School Counseling stream.
EDUC-5432-050 ST: Crisis and Trauma
Instructor: J. DeFehr
Dates and Times: January 9 to April 3
Wednesdays, 5:30 p.m. to 8:30 p.m.
Location: 1L06 (1st Floor, Lockhart Hall)
This course introduces students to approaches and assessment techniques relevant to effective crisis and trauma work with early, middle, and senior years students. Topics include strategies for prevention, intervention, and postvention; Western-based trauma discourse and counter-discourse; gender, colonization, and trauma; suicidal crisis; crisis related to body image, fat prejudice, and eating difficulty; anti-violence resistance and community building; "belonging" students; and self-care. This course is an elective in the General, School Counseling, and Special Education streams.
EDUC-5441-001 Inclusive Education 2
Instructor: P. Harrison
Dates and Times:
Saturday, January 12, 9:00 a.m. to 4:00 p.m.
Saturday, January 26, 9:00 a.m. to 4:00 p.m.
Saturday, February 9, 9:00 a.m. to 4:00 p.m.
Saturday, March 2, 9:00 a.m. to 4:00 p.m.
Saturday, March 16, 9:00 a.m. to 4:00 p.m.
Location: 1L08 (1st Floor, Lockhart Hall)
This course provides a more in-depth look at some of the topics covered in Inclusive Education I. Specifically, assessment, service delivery systems, and individualized educational and behavioral programming are examined in detail. We will also examine pragmatic issues such as reporting procedures and applying for special needs funding. The topics of classroom management and meeting the needs of at-risk children and youth will be introduced. Prerequisite: EDUC-5440 Inclusive Ed 1. This is a core course in the Special Education Stream. Students in the General stream can take this course as long as the prerequisite has been met.

EDUC-5442-001 Exceptional Child I
Dates and Times:
Saturday, January 12 9:00 a.m. to 4:00 p.m.
Saturday, January 19 9:00 a.m. to 4:00 p.m. p.m.
Saturday, January 26 9:00 a.m. to 4:00 p.m. p.m.
Saturday, February 2 9:00 a.m. to 4:00 p.m. p.m.
Saturday, February 9 9:00 a.m. to 4:00 p.m. p.m.
Location: 1L04 (1st floor, Lockhart Hall)
This course offers an overview of exceptional children within the school setting. The intent is to focus on the extensive field of special education in Manitoba, to examine programming for students with special needs, and to consider the causes, characteristics, and implications of specific exceptionalities. School issues are examined through multiple lenses. Specifically, this course reviews recent scholarship and research into students with exceptionalities, drawn from the fields of psychology, sociology and education. Additionally, the course focuses on constantly changing demographics in the schools and the requirement for educators to reflect upon the meaning of global citizenship. This is a Core course in the Special Ed stream. Prerequisites: EDUC-5440 Inclusive Ed 1 and EDUC-5441 Inclusive Ed 2