Michelle Shihrer
Modern Languages and Literatures
---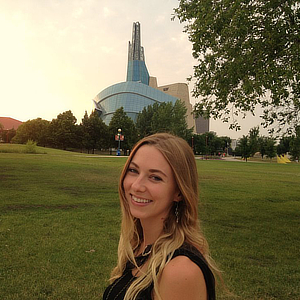 Title: Contract Instructor of German Studies
Email: m.shihrer@uwinnipeg.ca

Biography:
Michelle Shihrer is a recent graduate from the University of Bamberg, Germany, where she is originally from. She has a Bachelor's degree in English and American Studies (with German Studies as her second major) and a Master's degree in Literary and Media Studies. During her studies, she travelled as much as her student wallet allowed and took part in two exchange programmes in Krosno (Poland) and Winnipeg (Canada), where she studied English, Philosophy, and History at the University of Winnipeg for two semesters in 2011/12. She instantly enjoyed the multicultural and personal atmosphere at the University of Winnipeg and gained valuable teaching experience as a T.A. for the German Department.
Her research interests are Film Studies with a focus on city and spaces, and Dark Romanticism (both literature and film). She enjoys lively discussions with her students in class and in the German Club that meets weekly to talk about current affairs, German culture, and pop culture.
In her free time, she enjoys reading (Elena Ferrante, Christian Kracht, and Donna Tartt are current favorites), exploring more of Canada and its beautiful nature, and taking her dog Dexter, who moved from Germany to Canada with her, to the dog park.
Degrees:
Master of Arts: Literary and Media Studies
Thesis title: New York, New York? An Exploration of New York Film and Its Critical Examination of the (Failed) American Dream. Fall 2016
Advisors: Dr. Georgiana Banita, Prof. Dr. Jörn Glasenapp
Bachelor of Arts: English and American Studies
Thesis Title: African-American Women on Screen: From Subjection to Subjectivity. Fall 2013
Advisor: Dr. Georgiana Banita
Courses:
Advanced Intermediate German (GERM-2110)
Intermediate German Conversation Lab (GERM-2001L)