MDP students at the Cando Youth Summit
Fri. Oct. 16, 2020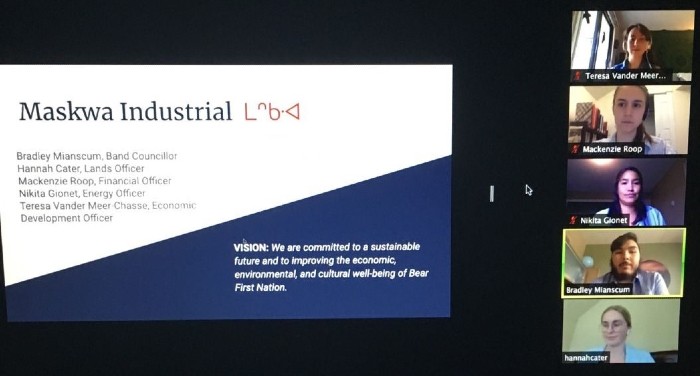 Between August 10-13, sixty First Nations, Métis, Inuit and non-Indigenous youth from across Canada participated in the virtual Cando Economic Development Youth Summit - 2020. Two MDP students, Mackenzie Roop and Andrea Dsouza, were selected as delegates. Over the 4 day period participants learned about community economic development and took part in a team exercise where groups were tasked to design a five-year economic development strategy for a fictional First Nation community and presented their plan to a panel of judges.

Second year MDP student Mackenzie Roop's team won first place: "I am thrilled to announce that my group, "Maskwa Industrial" came first place in the annual CANDO Youth Summit Case competition! In just a few days, the summit gave us the opportunity to access hours of presentations and discussions around the topic of Economic Development. This covered a wide range of topics including aspects of business, land management, economics, and so on.
Our challenge was to develop an industrial park for an imaginary First Nation on reserve land in central Alberta. Each group member chose a role, and we presented as a group corporation. I chose the role of "Financial Officer". I was excited to put to work some of the skills and information I learned during the business course I had taken earlier in the summer. In the end, I managed to pull together the needed information to prove our development had sufficient access to funds to cover our proposition. As somebody who struggles with numbers, I felt really proud of myself to have delivered a sound business plan.
The best part of the experience was meeting with my team. My team was from all over: the Northwest Territories, Northern Quebec, Yukon, and Alberta. They all came from different communities with different levels of experience and interest working in their home development corps. I learned a lot from doing this group project. It was not easy meeting people online and having to do group work in such a high-pressure situation, but it was well worth it. Most importantly, I learned not to give up on myself even if I am not feeling confident about my abilities. I also learned that group work is truly about representing other people's voices in a fair and consistent manner. Thank you, CANDO, for a really helpful and inspiring challenge. I can't wait to do this work in real life.
Andrea Dsouza, a 1st year MDP student, stated: "The Cando economic development youth summit was an exciting and enriching experience to participate in this August. During the conference, I had the opportunity to listen to Indigenous leaders and experts speak about development in ways that are centred on Indigenous values, worldviews and practices. In particular, I enjoyed listening to the founder of Cheekbone Beauty. It's not every day that you get to hear from someone who designs the products you use and who is making her mark on the beauty industry in Canada! I also really enjoyed all the fun activities we had and the opportunity to work alongside other Indigenous and non-Indigenous youth in putting forward a development project. This activity highlighted how crucial it is for different stakeholders to come together and work towards benefiting Indigenous communities. I would encourage other students to participate next year! Who knows, we might even make it on the same team and be able to strike big and win first place."