Temobi Amamkwe
Master's in Development Practice (MDP) in Indigenous Development
---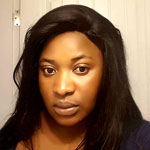 My name is Temobi, I am from Nigeria in West Africa. I have a Bachelor of Science Degree in Economics and International development. With my knowledge from my undergraduate studies I understood the importance of economics in community development. I was actively involved volunteering with different international development organisations like the United States Agency for International Development (USAID) on community services for several years. In 2015, I came into Canada and lived in British Columbia for couple of months, there I volunteered in different community resource centres like Justice Education Society (JES)as a facilitator, Community Against Sexually Exploited Youths(CASEY) to provide support, guidance, basic counselling techniques such as active listening, self care and healing therapy through arts.
Coming from a different background, I am passionate about working with organisations that are responsible for providing care services to individuals in need, have the opportunity to gain valuable international and practical knowledge of different ideologies and cultural backgrounds. Undoubtedly, this nudged me to seek more knowledge which will be a great benefit in order to be able to face a wide variety of community development issues.
My goal is to promote practices to eradicate poverty and promote sustainable economic community development initiatives. Participating in Development practice programme will enable me attain this great ambition.