Leslie Spillett
Master's in Development Practice (MDP) in Indigenous Development
---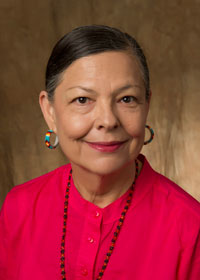 Leslie was born in Northern Manitoba in 1951 and raised by a family with deep roots to the land. Her material ancestry is Cree from Cumberland House and Opaskwayak Cree Nation and Red River Métis and her paternal ancestry is Irish and Scottish.  

Leslie attended boarding school in Saskatchewan and completed high school in Calgary. She obtained a Diploma in Journalism and Administration from the Southern Alberta Institute of Technology in 1972 and worked as a journalist and photographer prior to moving to Winnipeg in 1977.  She also attended the University of Winnipeg for two years working toward a Political Science degree.

Leslie has held various positions related to administration including her present position as the Executive Director of Ka Ni Kanichihk which she, along with other community women, founded in 2001. She was also one of the principle founders and leaders of Mother of Red Nations Women's Council of Manitoba and held an executive position on the Native Women Association of Canada Board of Directors between 2003 – 2007.

It was during her tenure that NWAC began its Sisters in Spirit campaign to raise awareness and action regarding the Missing and Murdered Aboriginal women in Canada. She participated in Amnesty International research and subsequent report, Stolen Sisters in 2003 – 2004. It was also during this time that activities to raise awareness of Missing and Murdered Women began in Manitoba. Leslie also raised this issues related to Missing and Murdered Women at a UN World Conference Against Racism in 2001 and at a UNESCO conference in 2005. 
As the Executive Director of Anishnaabe Oway Ishi, she founded the Aboriginal Youth Achievement Awards.   She also founded the successful Keeping the Fires Burning, an annual event that recognized the importance of traditional knowledge and restoring the status of indigenous women.

Leslie has been an activist and advocate for many people on a wide range of issues, including child welfare, justice, education, health, environment, employment and women's rights.
Leslie is a mother, grandmother and a sundancer.
In 2011, the University of Winnipeg conferred upon Leslie an Honorary Doctorate of Laws. Most recently, she was inducted into the Order of Manitoba for 2012, the highest honour in the Province of Manitoba.