Chief Glenn Hudson
Master's in Development Practice (MDP) in Indigenous Development
---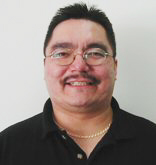 Chief Glenn Hudson is currently the elected Chief of the Peguis First Nation, Manitoba's largest First Nation community of 8600 members of Ojibwe and Cree decent. Born and raised in the community of Peguis, Chief Hudson is supported by and gains strength from his loving wife Sharon, son Glenn Jr., daughter Juanita and beautiful grand-daughter Meena.
First elected in 2007, Chief Hudson's leadership abilities provided him with the honor of being re-elected in 2009, for another two-year term as the Chief of Peguis. Chief Glenn Hudson also stands as the Chair of the Treaty One Organization, Executive Member of the Southern Chiefs Organization, Board Member of the Manitoba Indian Cultural Education Centre and Tribal Wi-Chi-Way-Win Capital Corp.  
In 1997, Chief Hudson graduated from the University of Manitoba with a Bachelor's of Science degree in Industrial Engineering (B.S.I.E.). Educated and empowered, Chief Hudson's mandate has been focused on guiding his people through process of education and the creation of self efficient economic opportunity through sustainable business practices. Through positive and progressive leadership, Chief Hudson's vision is to develop economic partnerships between the Peguis First Nation and the diverse potential beyond the reservation system, while engaging in the protection and enhancement of First Nation Treaty Rights.  
Chief Glenn Hudson has been an instrumental achiever for his people, seeking economic opportunities within Manitoba, Canada, The United States and in China.  In the pursuit of maximizing business relations, Chief Hudson acknowledges the importance of his Nation, all First Nations in creating self sufficiency and decreasing dependency on the federal government contribution agreements. Chief Hudson has been an active voice in holding the provincial and federal governments accountable for the sharing in our natural resources and minerals. As part of a coalition in 2009, Chief Hudson lobbied the office of the U.S. President Elect in Washington D.C. to honor the rights of First Nations people.
In 2009, Chief Hudson and the Peguis Council under the direction of the membership and community made history when they accepted a settlement from the Federal Government of Canada for $126 million dollars for the 1907 illegal surrender of their traditional land, St. Peter`s reserve.  The true nature of democracy as well as cultural and self preservation is a life enlightening lesson Chief Hudson wishes to instill during his time as a leader, mentor, and Chief of the Peguis First Nation.