Lorena Fontaine
Master of Arts in Indigenous Governance
---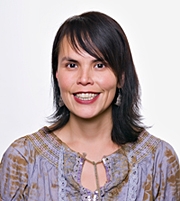 Lorena Fontaine, LLM - Associate professor
Lorena Sekwan Fontaine BA, LLB, LLM, is Cree and Anishnabe from the Sagkeeng First Nation in Manitoba.  Currently, she is a doctoral candidate at the University of Manitoba. Her doctoral research is on Aboriginal language rights in Canada.  Professor Fontaine has taught for the First Nations University of Canada and the School of Public Policy Graduate Program at Queens University. She has also worked with Aboriginal political organizations for over 20 years.
Since 2003 Professor Fontaine has been an advocate for Aboriginal Residential School Survivors as well as Children of Residential School Survivors. She has spoken nationally and has authored articles in Australia and Canada on Residential School issues. In 2003 Professor Fontaine was a task force member and contributor to the Assembly of First Nation's Report on Canada's Dispute Resolution Plan to compensate for abuses in Indian Residential Schools. Professor Fontaine has also acted as a legal consultant to the Toronto law firm Thomson, Rogers for the plaintiffs and their counsel in the Baxter National Residential School Class Action as well as to Mother of Red Nations Women's Council in Manitoba on cultural harm issues. Currently, Professor Fontaine is involved with a project on Digital Storytelling on the Intergenerational Legacy of the Residential Schools. The Digital Storytelling project has been presented across Canada, the United States and in Iceland.  
In addition to her advocacy work on residential schools, Professor Fontaine is a strong supporter of equality rights. Professor Fontaine was an Equality Rights Panel Member of the Court Challenges Program and has been involved with the Women's Legal Education and Action Fund as a board member and subcommittee member.
Internationally, Professor Fontaine has worked with the Inter-American Human Rights Commission of the Organization of American States as a legal intern, and has assisted in land rights cases for Indigenous peoples in Belize, and the United States. 
Research Interests: Indigenous Language Rights, Residential Schools, Digital Storytelling 
Email Address: l.fontaine@uwinnipeg.ca