Darren Courchene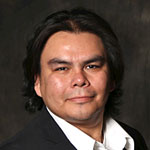 Darren Courchene - Lecturer 
Biography:
Darren Courchene, a citizen of the Sagkeeng First Nation, MB. has attended both Red River College and the University of Winnipeg earning a diploma in Aboriginal Self-Government Administration, a Bachelor of Arts with a double major in Aboriginal Governance and Religious Studies, and a Master of Arts in Indigenous Governance.
He has worked in the field of oral history documentation for over five years in two major projects which explored the spirit and intent of the treaty negotiations between the representatives of the Anishinaabe peoples and the Crown: the Treaty One Oral History Project with the Treaty One Protection and Implementation Office as well as the Manitoba Treaties Oral History Project with both the Assembly of Manitoba Chiefs and Treaty Relations Commission of Manitoba. The research he's currently conducting incorporates oral, written, and archival sources to examine the traditional and contemporary roles and responsibilities of leadership in Anishinaabe treaty making and nationhood.
Darren has lectured on Treaty history, interpretation, negotiation, and implementation in national and international settings and is currently completing a PhD in Native Studies at the University of Manitoba.
Courses:
GIS-4020/3 Indigenous Self-Determination
GIS-4021/6 Pathways to Indigenous Wisdom
Publications:
Courchene, Darren. "A Sci-Fi Geek's Ojibwe." Red Rising Magazine, Issue 8: Language (Summer 2018), pp. 64-66.
Courchene, Darren. "Anishinaabe Understandings of Treaty No. 1." Preservings, no. 36 (2016), pp. 12-16.
Courchene, Darren. "Gaagii-izhi-minigowiziyang: We Were Gifted By the Creator" in Quest for Respect: The Church and Indigenous Spirituality. Jeff Frisen and Steve Heinrichs (eds.), Winnipeg: Mennonite Church Canada, 2017
Courchene, Darren. "Anishinaabe ji-dibenjigaadeg (ownership) and ganawenindiwin (protection)" in Indigenous Notions of Ownership & Libraries, Archives, and Museums. Camille Callison, Loriene Roy, Gretchen Alice Lecheminant (eds.), Berlin: Walter de Gruyter, 2016.
Courchene, Darren. "Language as the Root of Ojibwe Knowledge." Geez Magazine 39, no.1 (Fall 2015): 26-27.
Courchene, Darren. "Anishinaabe gaagiikidoo gaagii-bi-izhisemaagoowin." Master's thesis, University of Winnipeg, 2014.
Cook, Rebecca and Darren Courchene (eds.) Preventing and Eradicating Abuse of Our Children and Youth. Winnipeg: Manitoba Association of Friendship Centres, 2006.
Fontaine-Brightstar, Marilyn, Darren Courchene and Helen Hayden (eds.) Hear our Voices: An Anthology of Aboriginal Women Stories and Poetry. Winnipeg: Native Women's Transition Centre, 2004.