Cohort 2014
Master of Arts in Indigenous Governance
---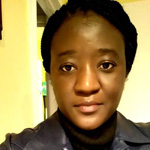 Majing Shimang Oloko
Majing is an Ngas woman from Shiwer district in Kanke Local Government Area, Plateau state, in North-central Nigeria.
She has a first degree in Geography Science from the Ahmadu Bello University, Zaria. Nigeria.
After spending some time working in the community with the Winnipeg Regional Health Authority, she decided to join the MAIG programme in 2014 because of her interest in issues that concern indigenous peoples, especially in the area of food security.
Her research is focused on food security and the role of indigenous food in meeting the food security needs of people in North-Central Nigeria.
Majing has concluded her field work and she is concentrating on writing her thesis this academic year. She hopes that her research will enable cross-cultural and cross-continental learning amongst indigenous groups in Nigeria and Canada.
She hopes that the programme will equip her with essential skills needed to make meaningful contributions to the indigenous community in Canada and abroad.
---
Saima Saddiqui
Saima is a woman belonging to South Asian ethnicity. Before moving to Winnipeg in the summer of 2014, she had studied and worked in St. John's and Toronto, Bath and Cardiff in the UK, and her hometown Karachi, Pakistan.
Her academic qualifications and research experiences have been on issues related to gender, development and governance with a special focus on low-income groups, racial and ethnic minorities, women and more recently the urban-Aboriginal communities.
At present, she is working on a research project in collaboration with the Manitoba Association of Friendship Centres and the Government of Manitoba Aboriginal and Northern Affairs, exploring the landscape for Urban-Aboriginal organizations in Manitoba.
The objective is to accentuate some of the best practices Aboriginal organisations in Winnipeg have adopted for improved service delivery in terms of public-private and non-profit partnerships and engagement with the barriers and challenges they are confronted with.
---
Ibukun Anifowose
Ibukun is a Yoruba man from Ekiti state in the south western part of Nigeria.
He has a first degree in Philosophy from the University of Lagos, Nigeria.
His research is focused on the politics and conflicts of resource extraction in the Niger-delta region of Nigeria.
The Niger-delta region of Nigeria has seen its share of conflicts as a result of corruption and mismanagement in the oil extraction sector, and the indigenous people of the region are right in the middle of this conflict.
He hopes that his research will shed some light on the experiences of the people of Niger-delta and the challenges they face, even though their land houses the county's most valuable resource.
He hopes that his research can make meaningful contributions to indigenous issues in Canada and internationally, especially in the area of resource control.
---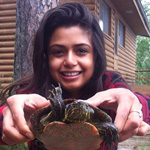 Jazmin Alfaro
Jazmin Alfaro has a 4yr BSc in Environmental Science focusing on environmental policy with recognition of a 3yr BSc in Biology focusing on ecology. She is now focused on working with Indigenous and marginalized peoples in community-based participatory research, engaging in exploring food systems and their role in biocultural diversity and community health and wellbeing.
Jazmin has recently been awarded with a Queen Elizabeth Diamond Jubilee Scholarship for her community work and academic excellence, and will be continuing her studies in Carib Territory, Dominica where her work will have her studying the role of climate change on resilience of Indigenous food systems.
---