True Sport Moments - 2017 Canada Summer Games
Gupta Faculty of Kinesiology and Applied Health
---
True Sport Alive and Well at Summer Games
The True Sport movement in Canada promotes values-based sport from the playground to the podium and is a reaction to the negative stories so often heard about on the fields and in the stands.  True Sport is a medium for sharing stories of good sports because good sports can have a great impact.  Great moments of good sportsmanship exhibiting the True Sport Principles are highlighted and celebrated with a Standing O from members of the True Sport Lives Here Manitoba Committee. Here are some True Sport Moments we've recognized from week one: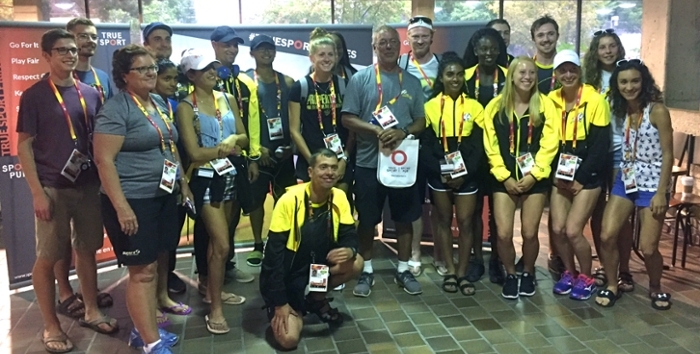 The first True Sport Moment to be celebrated was for those who took the True Sport Oath at the Opening Ceremonies: Coach Claude Berube (above holding white TS swag bag); track & field athlete Niyah Spencer and Official, Frank Fargey demonstrating the 50th Canada Games are a recognized True Sport event.

Sharing Principles - and Lunch!
When Team Ontario Divers didn't have any lunch at the Pan Pool on July 30th, Team BC Divers - realizing they had time to return to the Athletes Village to eat – gave up their lunches to ensure their fellow athletes had sustenance before competition. Living the TS Principles like playing fair, respecting others, and helping everyone stay healthy, this True Sport Moment belongs to athletes: Bryden Hattie, Ryan Grover, Sam Braun, Nick Nepomuceno, Coral Strugnell, Tanesha Lucoe, Alison Komlos and Jessie Nowotny.   Thanks for reminding us that sport is never neutral – and good sport is just great!
The girls are holding the "Echo the Orca" pins they were given for showing such great True Sport spirit. Photos provided.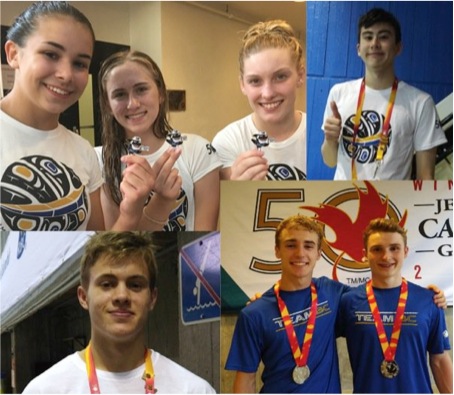 Athlete steps up!
While Kristy's Athletics coach was at the stadium with other coaching staff and competing athletes, Kristy's teammate had a medical emergency at the Athletes Village. Kristy figured out how to text her teammate's mother to contact their coach at the stadium. That done, Kristy promptly got her teammate to the Polyclinic, and had him checked-in, triaged, and with a doctor by the time the coach arrived.  Kristy exemplified True Sport: she showed a great level of responsibility, and the willingness to put another person's health and safety first. Kristy Alford deserves a Standing O! [Oh, and Kristy won gold in the 100km race, too!]


True Sport Moment from Team Yukon
Team Yukon's Women's Basketball Team lost to P.E.I. and are out of contention – so why all the smiles and positive vibes in their post-game huddle? Alongside the team (in grey left – right are Head Coach, Tyler Bradford; Assistant Coach, Deidre Davidson; and Manager/Assistant Coach, Claire Abbott).  What Team Yukon heard from Bradford & staff: "We're proud of how hard you worked all week and that you played with tenacity and heart."  A True Sport moment of keeping a positive attitude and losing with grace.
Newfoundland & Labrador Give Back
For the past three years, the athletes of the 2017 Canada Games Newfoundland & Labrador Baseball Team have been involved with supporting youth-oriented sport programs and young athletes. Giving Back is intrinsic - many of the players volunteer with their local minor baseball associations to assist the young athletes of tomorrow. Prior to their departure for the Games, Team NL hosted a development session and invited 30 Pee Wee AAA players to join them on the field. It was another opportunity for players to give back to the associations that helped foster their development as young people, and Canada Games' athletes. 
Throughout the CG process, Ryan Murphy, their bat boy was treated like a member of the team, and made part of all their activities. Arriving in Winnipeg, Team NL was assigned two wonderful young bat boys - Luca and Jack - who instantly bonded with them, while the players enjoyed making Jack and Luca part of the team. So when team staff learned that Luca's Pee Wee AAA Provincials were on this week – they made special arrangements to be there to cheer Luca on! 
A big part of the Canada Games, and sport in general, is to create memories that will last a lifetime and to forge relationships that provide a solid foundation for development.  Way to give back, Team N&L Baseball!