Kinesiology Students STEP UP for United Way of Winnipeg
Thu. Nov. 8, 2012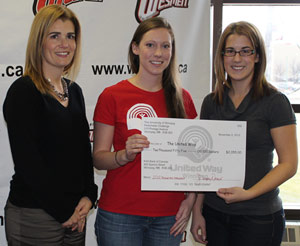 The Kinesiology Students Association organized a Pedometer challenge to promote the value of physical activity in our day-to-day lives and to raise funds for the United Way of Winnipeg. Students and faculty members paid to register teams of five to compete in the annual pedometer challenge during the last week of October. Each team member wore a pedometer from Tuesday until Friday – the team with the most steps stepped, won. This year's winner was the team from Garbonzo's in the AnX.
Jenelle Dacquay-Neveux, coordinator of the event and Co-President of the Kinesiology Students Association presented a cheque for $2055.00 to the United Way of Winnipeg for their efforts – more than double the amount raised in previous years. "This is a great way to connect with our professors outside the classroom, promote active living and support a great community organization," said Jenelle Dacquay-Neveux.
"We are certainly proud of our student associations and the work they do to promote a positive university experience and an active living lifestyle for students in the Faculty of Kinesiology" said Dean David Fitzpatrick.
Pictured above: From left to right, Jennifer Dacquay (Campaign Manager, also Jenelle's mom), Molly Dunbar (United Way Sponsored Executive) and Jenelle Dacquay-Neveux (KSA Co- President).